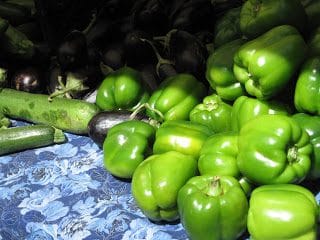 Art Tour: Vail,CO
Categories: Art Tours, Colorado, galleries, landscape, painting, Rocky Mountains, sculpture, travel, Vail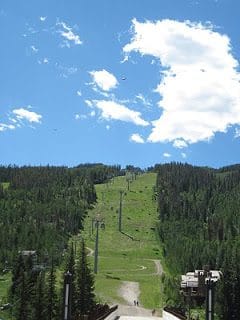 Located in the central Rocky Mountains of Colorado, our second art tour is in Vail. 100 miles west of Denver, and 30 miles east of Eagle Vail is right in the middle of beautiful! I was amazed at how big the resort is, especially if you visit the new Lionshead village too!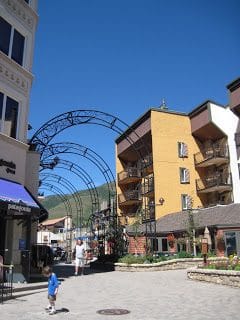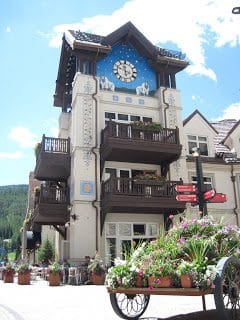 Lionshead village is like a Scandinavian Camelot, and it is over-the-top amazing! Bikers were toodling around the village, shoppers were enjoying the summer sidewalk sales, and those lucky enough to have extra time could sit and people watch over a Starbucks or Haagen-Dazs cone. We made sure to spend time in the Burton store, a snowboarder's candy shop! Vail's Central Village lives up to its reputation of a picturesque Colorado ski destination, and in the summer it is bursting with activity. On Sundays from June 20-Sept. 19 you can experience the Art and Farmers' Market. Hundreds of white tents line the village streets as vendors sell fruit, vegetables, baked goods and delicious food, handmade soaps and lotions, and original art.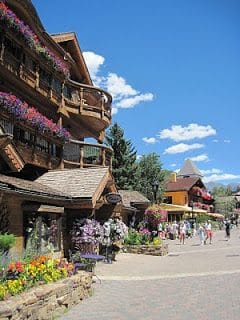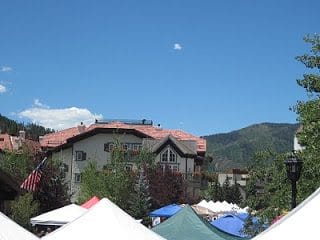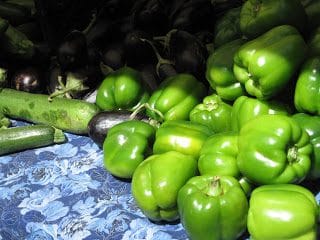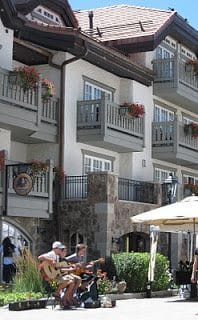 I found three noteworthy galleries in Vail, and have to commend them all for having fabulous art, incredible gallery space and extremely friendly staff. Masters Gallery at Vail and Vail International Gallery are located next to each other on Meadow Drive in the Central Village.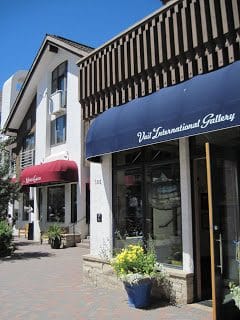 I met Rayla Kundolf, the Gallery Director, and enjoyed the comfortable gallery atmosphere, that even had chairs to allow viewers to relax and enjoy the pieces. Here are a few I found interesting: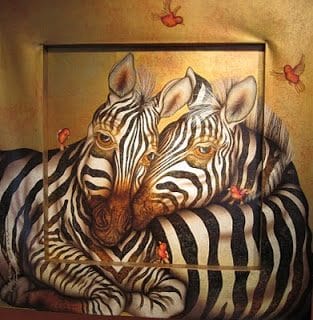 "Couples Harmony" by Luis Sottil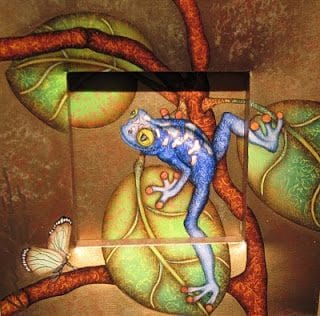 "Faithful" by Luis Sottil As a painter, I have always been fascinated by the element of the frame as it relates to the image. I love how this artist incorporates the frame into colorful, whimsical animal imagery.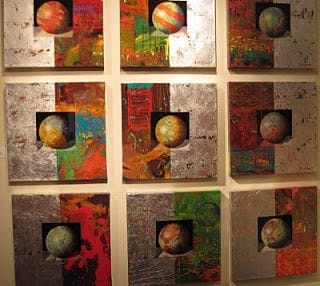 "Suite of Nine" by James Jensen, mixed media on canvas
Again, I am intrigued by the space within and around a painting. Here the artist has physically divided the picture plane into nine parts, acknowledging the need for frames, but incorporating them into the imagery of the piece. A simple sphere becomes incredibly dynamic in this work.
At Vail International Gallery, I met Co-Owner Marc LeVarn, who cordially invited me to view an additional part of the gallery I had missed. He was so kind to show me more pieces by featured artist John Taft, and I found a few more delightful works there! I was impressed by the friendly atmosphere of the gallery, where they are clearly passionate about their art. This gallery is a must see!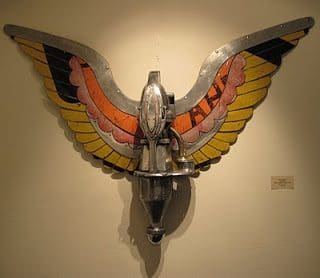 "Explosion" by Bates Wilson, highway signs and mixed media I love sculpture that you hang on the wall! What fascinates me about this artist is that he can transform something so hard and industrial into something refined and extraordinary. The act of gaining materials once possessed by a government infrastructure and appropriating them for angelic imagery takes the piece to another level all together.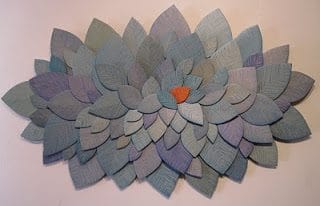 "Foglie Azzure" by Carlo Trost, carved wood
The pieces by this Italian artist are phenomenal. I adore their symmetry, craftsmanship, ingenuity and that little orange leaf that is such an unexpected delight! One aspect that is truly wonderful about these three-dimensional pieces is how necessary it is to see them in person. The way they play with physical space is something that cannot be translated through photography.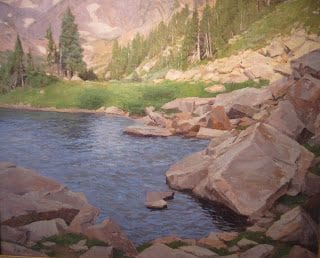 "Rock Water" by John Taft, oil on canvas
This artist has a solo show at Vail International Gallery now until August 7th. The paintings in the show vividly capture the essence of the Rocky Mountains. Colorado has such breathtaking scenery that only a painting with such luminous color and delicate texture created with an artist's loving hand can do it justice. The large scale of the paintings invite the viewer to breathe deep and be transported to a place of serenity.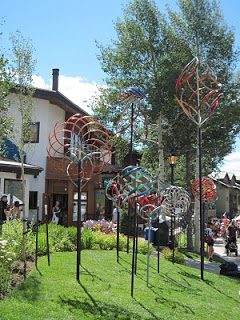 We ended our extraordinary adventure in Vail at Vail Village Arts, which is associated with The Vickers Collection I reviewed in my Beaver Creek Art Tour blog post. I had the opportunity to have a friendly discussion again with Kate Pardun, who was busy juggling customers in this bustling gallery. I saw both familiar and new pieces, and enjoyed my time here thoroughly.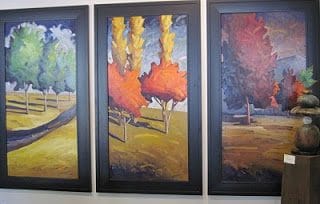 "Keep", "Run", and "Heaven", by Aaron Fritz, oil These are three separate paintings, but look completely harmonious together. I love the saturated color, active brushstrokes, and simple compositions of these pieces. The paint is so lush I can immediately start to smell the linseed oil and turpentine (even though they are dry and have no scent left!)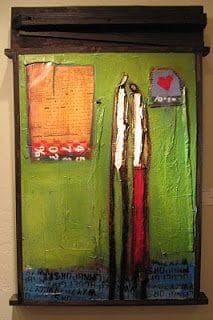 "Such Is" by William DeBilzanThis piece is actually at the Vickers Collection in Beaver Creek, but more of the artists work is at Vail Village Arts, and I have to take the opportunity to showcase it. I love the elongated figures in this artist's work. The raw textures and layers of paint, color, letters, numbers and shapes are simple yet honestly create a warm emotional reaction from the viewer.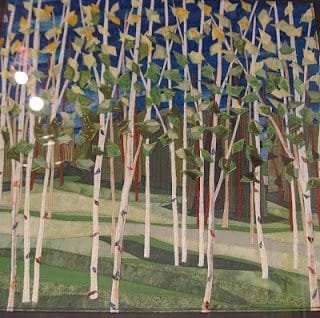 "Sunlit Grove" by Lisa and Lori Lubbesmeyer, fiber painting
I am an active sewer as well as a painter, and I love pieces like this! The artists have taken a traditionally solid material and made it fluid. The craftsmanship of this is remarkable, and yet as you contemplate the seams and stitches, you also are delighted by the little leaves that seem to flutter right before you.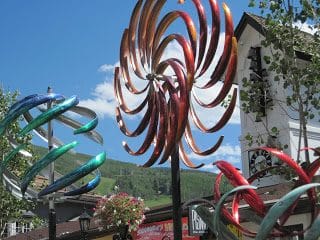 Kinetic Sculptures, by Mark White, metal
I have to end my journey with these remarkable wind-powered sculptures that gave my travels through both Beaver Creek and Vail whimsical inspiration. I watched children stare at them in wonder, and I was filled with joy at how they shimmered and spun in the breeze.
Art that changes the way our environment feels, changes the way we think and act, and has therefore accomplished its purpose.
Tweet
Spread The Love, Share Our Article