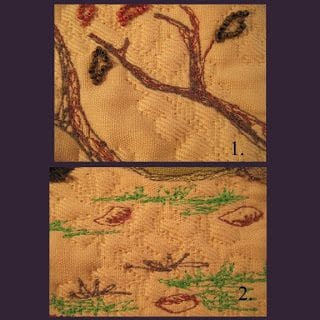 Technique: Thread-Painting
Categories: Art Quilts, construction, design, Elysian Studios, ETSY, fiber art, sewing, supplies, textiles, tutorial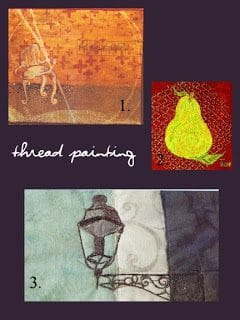 Thread painting is a technique I have recently discovered, and I am thrilled at the bridge it creates between traditional visual art and textiles, a genre known as "Art Quilts".  With this technique, drawing and painting can be done with thread and fabric instead of pens, pastels and paints.  For the textile and multi-media artist, the technique will create a whole new world of possibilities for your work! Here's some examples of what it looks like: 1."City Chair" by Melanie Testa, 2. "Fancy Pear" by Terry White, 3."Market Day, Sarlat" by Leni Levenson Wiener.  As an textural accent, background pattern, or to create an object (like the light), thread painting is extremely versatile!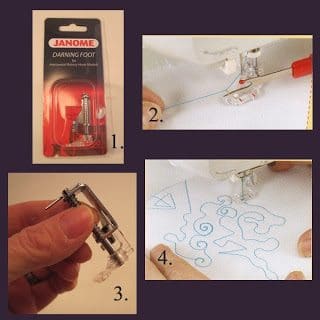 What you will need:  A sewing machine, a "darning foot" (also called a "free motion foot"), lots of thread (2-3 spools of whatever color you are using).  I had to go to a specialty sewing machine store for this foot, but they had it readily available.  For this technique, you must drop the feed-dogs to allow the fabric to move freely, so read your manual to learn how!  There are techniques that implement tracing paper or  freezer paper and a hoop to stabilize the work (see resources below for more info).  Puckering will be an obstacle to overcome, but I found I had little problem if I used a thicker background material.  When I tried it on linen, I did have some puckering.  It will be a process you will gain control over with time and practice.  I promise…it's lots of fun!   (1. "Darning Foot" by Janome,  2. Darning foot on the machine, 3. Close-up of darning foot, 4. Darning foot at work!)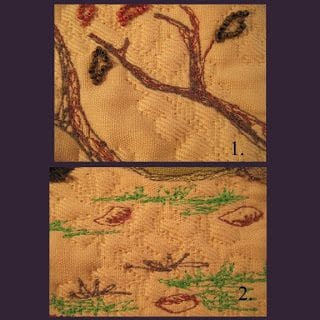 I completed some Art Quilts from my new "little zen" series recently.  This series is simply about a cute little bird that stops among the leaves in different settings.  You'll see him at the beach, in a rain shower, among autumn leaves and in the mountains.  I am using this series as a means to explore this new technique. I have drawn details of  the bird, created waves, puddles, branches and leaves with thread-painting.  I have my first two completed pieces in my Etsy shop, if you would like to see how an entire work looks.  For our purposes here, I want to give you a snapshot of an example of some of the techniques: 1. branches in two colors of thread,     2. leaves and grasses in multiple colors. Finally, I want to share a fun project I found on the web if you are interested in trying this technique!  This will link you to a full-color pdf file by http://www.starthreads.com/ that teaches you how to make this beautiful piece below!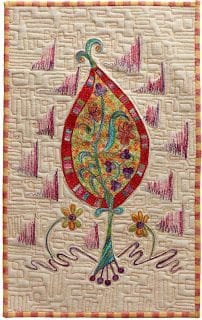 Tree of Life project by Starthreads.com
Additional resources:
Photo-Inspired Art Quilts, by Leni Levinson Weiner
Spread The Love, Share Our Article