Setting Up Shop: Big Cartel- Is it for you?
Categories: Art Collecting, blogging, business, ETSY, marketing, shopping
"Big Cartel Is Where Artists Set Up Shop"
Most artists strive to make a living from their craft, but it's not realistic to think your work will immediately get featured in a retail store or displayed in a gallery.  We live in a remarkable age where there are so many alternative approaches to get your product out there, but what are the best venues?  I am going to explore methods of marketing and selling original work, and will feature them here on the blog.  I welcome feedback along the way! 
So what exactly is Big Cartel?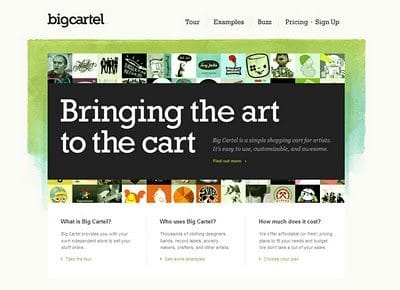 http://bigcartel.com/  homepage

"Finally, a shopping cart for the little guy. We provide clothing designers, bands, jewelry makers, crafters, and other artists with their own customizable store to sell their stuff online." says Big Cartel, a project of IndieLabs. 
http://bigcartel.com/tour 

Take the tour, and you will find what Big Cartel has to offer.  It promises quick setup, easy use, complete customization, inventory tracking, and use of discount codes.  No listing fees or percentage of your sale is taken by Big Cartel, but PayPal fees still apply if you use that service.  There are multiple levels of service for your Big Cartel shop, starting with "Free" to list 5 products, "$9.99 Platinum" to list 25 products, "$19.99 Diamond" to list 100 products, and a new "$29.99 Titanium" level to list up to 300 products. As you increase your level, you increase the amount of photos you can have per item, your customizability, and better your "stats" (which look like analytics).
Big Cartel prides itself on not being a community, unlike Etsy, which can have pros and cons in my opinion.  You retain focus on your own brand and your shop can be customized with colors, logos, website and blog integration, and Facebook buttons.  You control your own traffic, but Big Cartel is not going to help you get discovered!  There's no selling tips, seasonal marketing strategies or teams to partner your business with, like Etsy provides.  Big Cartel says your store will be SEO optimized, and you can even incorporate your own domain name into your shop (i.e. shop.mydomain.com).  That can be a very valuable asset in getting found by web search engines!
Who is using Big Cartel?
Go to this page, and start clicking the shops to get a feel for who is using Big Cartel.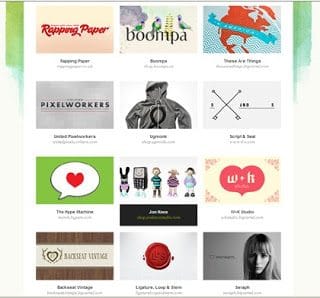 If you click on their "Buzz" page, you can watch videos about some shops and their success with Big Cartel.  I enjoyed the one about "Seraph," a typography company.  So what do you think?  I am intrigued, but honestly had a hard time finding great stores just by searching.  I only know one artisan who has a shop set up on this site, Lorelei Eurto, and it is a beautiful jewelry shop.  I would love to hear about other artists who have shops on Big Cartel, or any experiences you may have had as a customer!
Spread The Love, Share Our Article