It's Holiday Time!  Whether you're celebrating with a crowd or just family, having snacks on hand adds to the fun!  Enjoy this mix while playing games or sipping hot cocoa- sweet and salty is always a hit!
Click here for printable recipe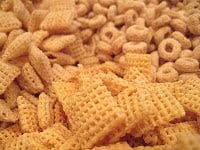 Ingredients:
3 cups Rice Chex cereal
3 cups Corn Chex cereal
3 cups Cheerios cereal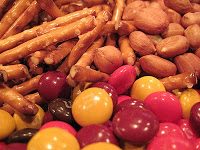 2 cups pretzel sticks
2 cups dry roasted peanuts
1 (12 oz.) bag of M&M plain candies (holiday colors!)
1 pound white chocolate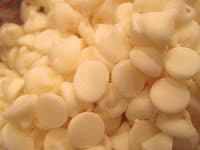 Combine all ingredients except the chocolate in a large bowl.  Slowly melt the white chocolate in the top of a double boiler (or carefully in the microwave). Pour melted chocolate over the mix and stir to evenly coat.  Spread the mixture on wax paper and cool.  Break into small pieces.  Store in airtight container.  Can make ahead!