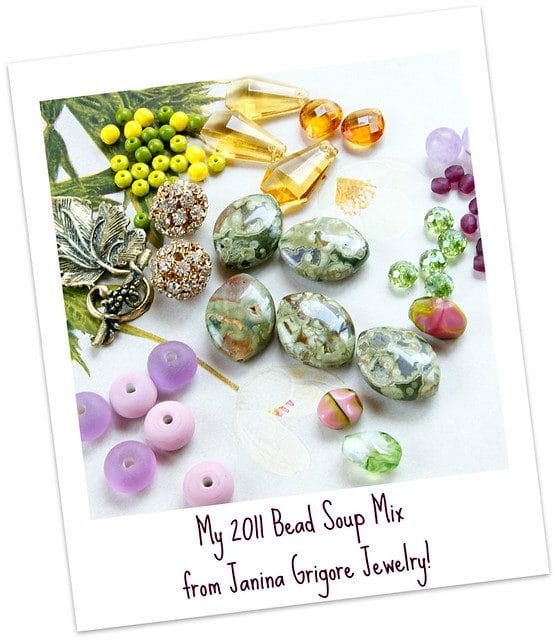 What's In The Mix? Bead Soup 2011
Categories: Artists at Play
What is "Bead Soup?" 
It's a brilliant concept created by the very talented jewelry artist, Lori Anderson,author of the "Pretty Things" blog.   It's a fun bead exchange, design challenge, and blog hop party with over 300 jewelry and bead enthusiasts participating! Participants sign up during a limited time on Lori's blog. She gives plenty of notice, and the news spreads like wildfire through the jewelry blogosphere!  The only requirement to participate is that you must have a blog, and you must be willing and able to send a "Cup of Bead Soup" to a partner that Lori picks for you!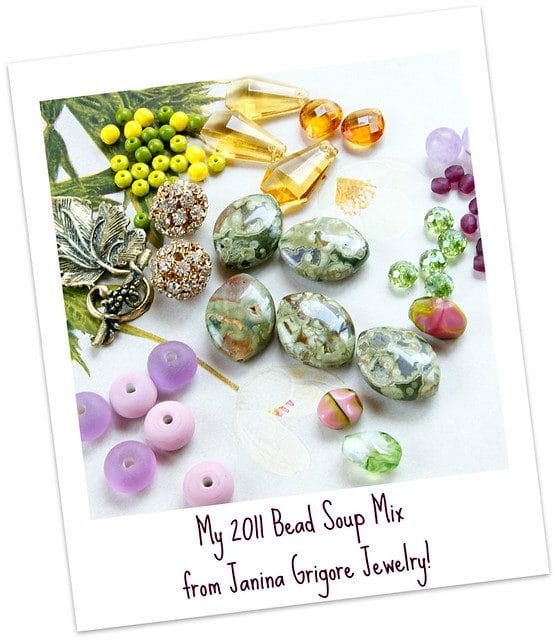 What's in the Cup of Bead Soup?  A focal, a special clasp, and an assortment of coordinating beads.  You collect a beautiful ensemble of components, and then send them off to your partner, who does the same.  As I mentioned in my last post, I have been paired up with the lovely Geanina Grigore of Janina Grigore Jewellery.  She lives in London, so this was my first opportunity to learn about shipping overseas!
I have received my Cup of Bead Soup, and look at the Cup O' Gorgeous that it is!  Geanina has sent me: (from bottom left, clockwise)  Lilac and Lavender Bohemian Lampworked rondelles, Pink and Green variegated faceted Czech Glass beads, Rainforest Jasper Horse Eyes, brilliant Green Glass Crystal Rondelles, Violet matte faceted Czech Glass rounds, Light Purple glass rounds, Topaz pressed Czech Glass briolettes in two sizes, Green and Yellow pressed Czech Glass rounds, Citron faceted Czech Glass rondelles, Gold Spheres with Chatons, a beautiful Grape Leaf Toggle Clasp, and….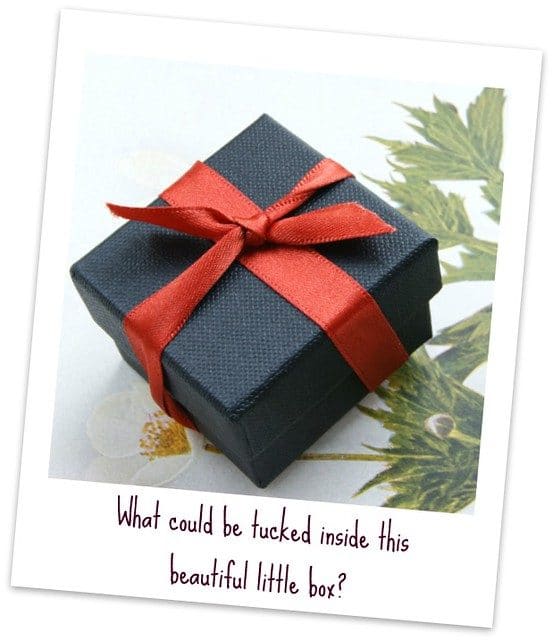 Everything was packaged so beautifully, I almost hated to open it! But like an eager child on Christmas morning, I tore off that pretty ribbon, and was so excited to find…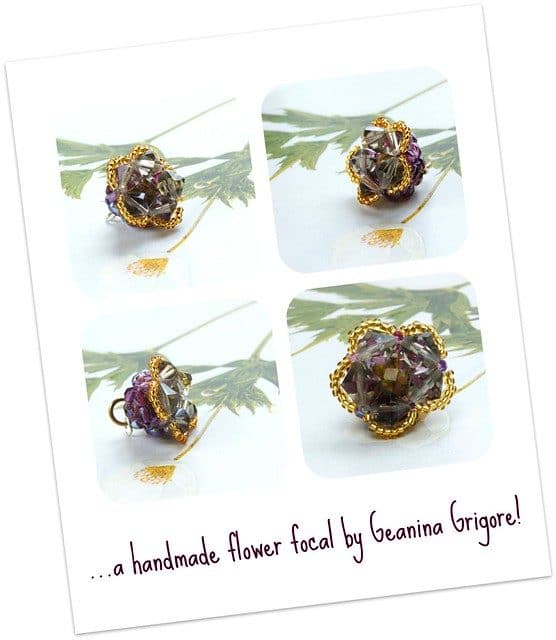 I have already started working with these beautiful beads and components!  I will have several new designs to share at the big blog hop on September 17th, so don't forget to stop back by! It's going to be so much fun!
Want to see what I sent Geanina? Have a look!
Are we connected? Keep In Touch!




                Facebook            Twitter              Flickr            RSS Feed
Spread The Love, Share Our Article