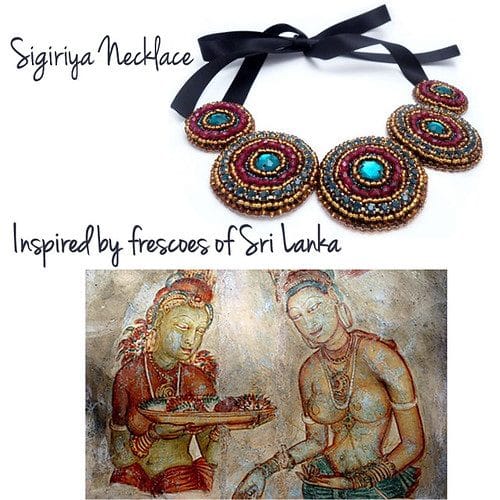 What are your favorite materials to work with?
"I just love sewing and working with fabrics, gems, faceted Czech glass, chains, feathers, leather and crystals. I am crazy about everything colourful , ethnic and bohemian , but not too overwhelming . Old patterns from Eastern Europe, Middle East or Orient fascinate me, travels and foreign cultures give me lots of ideas. Designing and creating has become a true obsession and a therapy for me ."
What inspires the colors you chose for your pieces?
"I absolutely love colours , but I follow no specific rules when I design a piece and I rarely  draw a sketch beforehand . Colour inspiration is everywhere around; sometimes it comes from a film that fascinates my like the my "Tsumami" Collection inspired by "Memoirs of a Geisha",  an interesting  book I read  , ancient places and murals like the "Sigiriya" collection   inspired by fabulous frescoes I saw in Sri Lanka, and of course Mother Nature is an endless source of ideas. 
Other times it is the colour of the beads itself that inspires me , I play with beads and stones and move them around in different combinations and patterns until I am happy with what I see."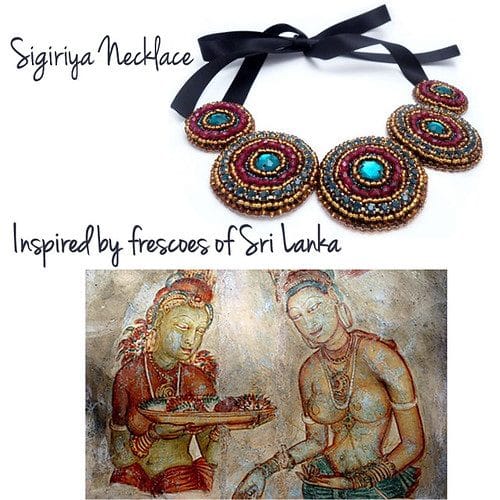 You photograph your work beautifully.  What is the best trick you have learned to get great photography?
"Photography  started , for me, as a very frustrating experience. I live in a flat where there isn't enough natural light, but I have learned a lot in the last two years and, in time,  it's turned into a passion . 
I use a Lumix DMC-FZ28 camera which is not very expensive and just perfect for beginners.  The light tent has been a life saver. For editing I use Gimp ( which is available to download for free) ,  PhotoScape ( I use it a lot for reducing the size of the photos ) and Serif PagePlus to create collages for my blog ."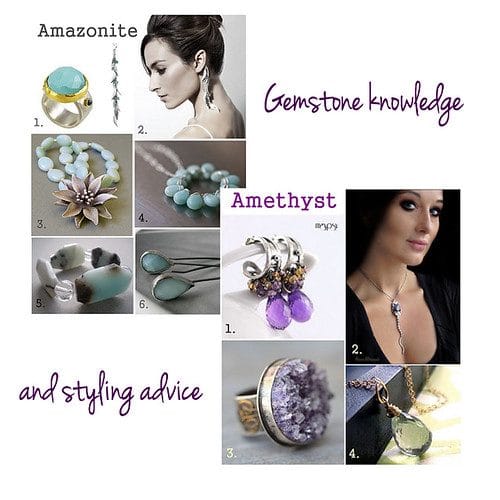 I love the fashion boards you put up on your blog! What are your biggest fashion inspirations?
What is one accessory you absolutely cannot live without?
"My make up (my eyeliner) … and a fitted dress."
What celebrity would you love to design for?
"Keira Knightley – she is feminine, eclectic and classy."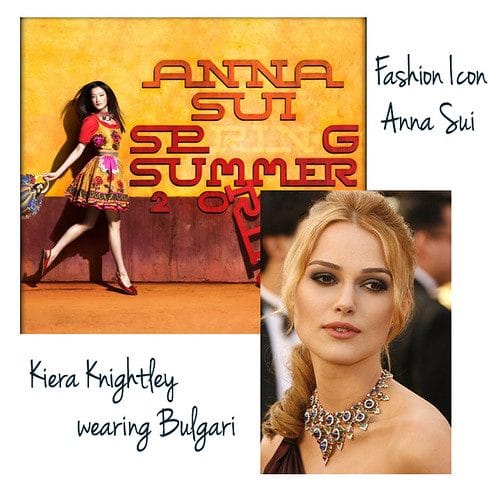 What goals do you have for Janina Grigore Jewellery in the next year?
"This summer I have been doing quite a lot of sewing  and I also went on a course in Handbag Design at the London College of Fashion.
I will  use what I learned on the course together with my beading and embroidery techniques to create a handbag and jewellery collection with a ethnic / boho chic theme.  I would also love to see my jewelry featured in more magazines and be part of events like London Fashion Week . 
There are a few projects taking shape this autumn, one of them is a feature in a fashion photo shoot in south of France and then  a catwalk in November."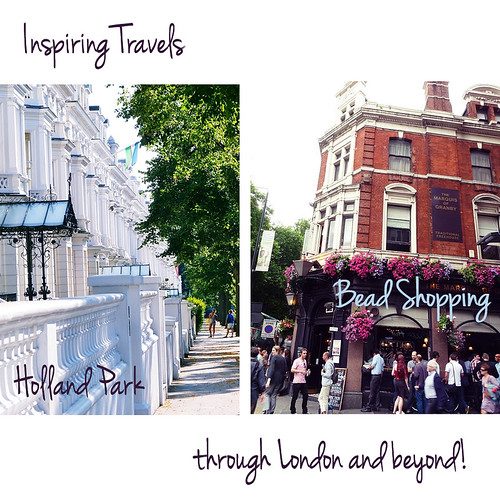 What are your favorite things about London?
"I love the endless options of food and restaurants (Vietnamese are Malaysian are my favourite).  London is a very multicultural place!
There are so many beautiful gardens, parks (I love Kew Botanical Gardens and Richmond Park) and museums  (British Museum, Tate, National Portrait Gallery) to see.
London is great for shopping: Oxford Street is well known, also Harrods, Covent Garden, and King's Road.  There are also fabulous street markets, such as Portobello, Camden, Greenwich,and the Columbia Flower Market."
(Be still my heart- I only had one day in London, and I saw most of it from the top of a Double Decker bus.  I clearly need to return!)
What can we find you doing when you are not busy making jewelry and running a business?

"When I am not creating or teaching, I enjoy travelling, walking and  hiking in the hills, laughing, reading mystery books , eating cakes, studying astrology; not so keen on watching TV programmes unless they are about interior design, dancing or it is a history/geography documentary ( I am a geek!) ."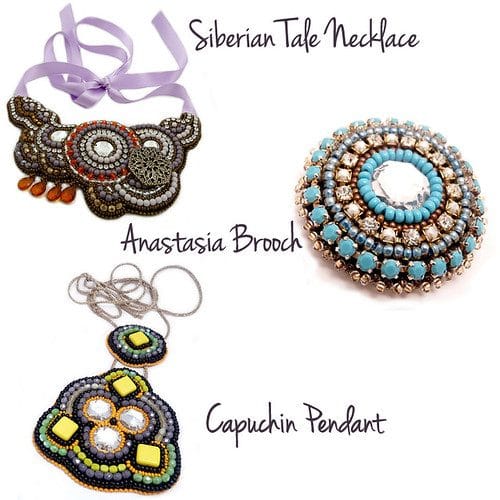 What advice do you have for new designers who are just getting started with their own jewelry/accessory business?
"Well, this is a difficult question, since I am myself a new designer.  I am still on a journey and still working on perfecting my product.  I guess we do this our entire life!


One thing that keeps me going is my determination and 100% commitment to my goal.  I am a complete workaholic and I am obsessed with creating beautiful things.  It is so disheartening when things don't work out the way you hope, or when you are rejected, but you just need to keep going and always work on improving your product!


The jewelry industry is a very competitive space.  There are so many talented people out there, and as a new designer you really need to stand out in some way: a fabulous product, a unique story, great customer service, etc.


I recently went on a design course and the teacher said to all of us at the end: 'This is a journey: the beginning of it.  It is your  journey.  It's like getting on a bus and only you decide if you want to get off at the next stop or go all the way to the end to see where it takes you!' "
~ ~ ~ ~ ~
Now how much do you love Geanina?  I'm on the bus with you, girl, and I'm not getting off anytime soon!
Stay tuned to see what lovely goodies Geanina sent me in my Bead Soup!  And then stop back on September 17th for the reveal of our new jewelry designs!  It's going to be a huge blog hop with over 300 participants!  In the meantime, stop by Janina Grigore Jewellery, or her Amaryllis Boutique on Etsy,  and pick up something exquisite, and say "Hi!" on her blog or Facebook page!
Want to know what Geanina learned about me?  Read her interview here!



 
Are we connected? Keep In Touch!




                Facebook            Twitter              Flickr            RSS Feed