Stuff those stockings with both practical and whimsical gifts this year!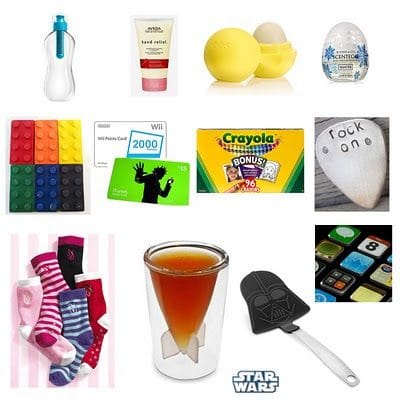 By rows, from top left to right: Bobble Water Bottle (Container Store): Simply fill this water bottle with tap water and the interior charcoal filter makes it drinkable in seconds anywhere you go! Hand Relief Cream (Aveda):  This is a luxurious moisturizer that makes everyone's hands softer, and the travel size is very convenient! Lip Balm (EOS): Hands down, the best lip balm, and the whole family loves it! Slatkin&Co ScentEgg (Bath and Body Works) This portable diffuser is available in tons of scents and works perfectly without flames or plugs wherever you need a pleasant aroma!  Upcycled Lego Crayons (ColorCache): Excellent for covering large areas or doing rubbings, these crayons are fun! Wii Points and iTunes (Amazon): Wii points allow you to download small-release and classic games directly to your Wii or Dsi, and everyone loves the gift of music!  Large Box of Crayons(Crayola): Nothing is better than a fresh box of crayons with all those colors, and this year Crayola has StoryStudio, which allows you to upload your own photo to make coloring pages! Custom Guitar Pick (BeadSoul) For the rocker in the house, a personalized guitar pick is a very unique gift! Slipper Socks (Victoria's Secret): Everyone sells slipper socks, but these have a knit exterior with a supersoft, plush fleecey lining, and they have great grippers on the bottom to prevent slipping!  Bombs Away Shot Glasses (Perpetual Kid): A novelty bar item is always fun, and New Year's Eve is just around the corner!  Darth Vader Flexible Spatula (Williams Sonoma): Their entire Star Wars line is a blast (and apparently really popular), and this spatula fits great into a stocking! App Magnets (Perpetual Kid): Anything ipod or iphone related would be appreciated by most in the stocking, and these are a funny way to carry the theme to the fridge or office!
Stocking Stuffers are always a challenge… you want to be fun, but not spend a ton.  Candy, little bags of coffee and tea, single portion liqueurs, card games, beef jerky, are some more simple ideas to round out a few pricier items.  Merry Christmas!