Can't take her to Telluride? Here are a few gorgeous gifts to bring some Rocky Mountain Luxury to her Christmas!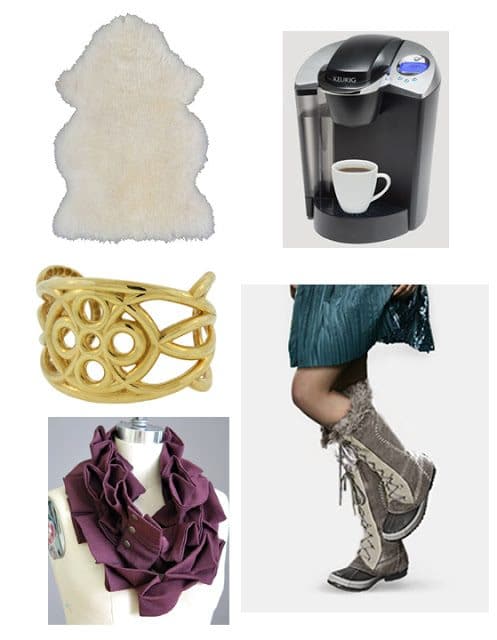 From top left, clockwise:
Sheepskin Rug (Ikea): At the foot of the bed or at the edge of her tub, this is the fluffiest, softest thing her feet will touch all day. They are readily available online, and some discount stores, like Costco carry them.
Keurig Single-Cup Coffee Brewer (Bed Bath & Beyond): For the kitchen (or even more luxurious, the bath) she can have a piping hot cup of her favorite coffee, tea, or hot chocolate.  If you are setting up a coffee bar in the boudoir, be sure to include a tray, coffee cups, non-perishable creamer, and stir sticks. 
Joan of Arctic Boots (Sorel):  These boots are both practical and gorgeous for the city, the slopes, or hot toddies at the lodge.  'nuff said.
KOMO Neck Garland Scarf in Burgundy (PeekoApparel):  She  can snuggle into this scarf and face wind and snow, all while looking completely glamorous.  Available in multiple colors at PeekoApparel's shop at Etsy.com.
XOXO Cuff in Gold (Janet Mazorie): To a formal event, or on any casual day, her arm will glow (and many people will comment) when she wears this statement cuff. This is a handmade piece available only at Etsy.com, learn how to shop here.
Stay tuned for more Holiday gift guides!