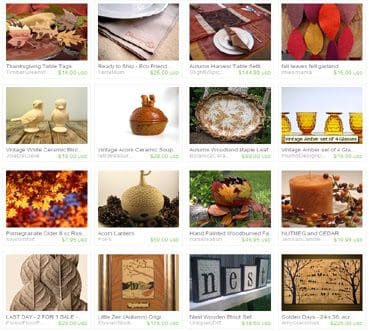 Cozy Autumn Woodland Thanksgiving Treasury by Elysian Studios
As we prepare to gather together for Thanksgiving, we think of warm autumnal colors, the nostalgic aroma of spices, rich textures of table linens, the clink of glasses, and the laughter of family and friends as we celebrate.
Click here to view our treasury and visit these wonderful shops!
Featured works by Timber Green Woods from Spring Green, WI , TerreMum from Sodus, NY,  Slightly Spiced from Salt Lake City, UT, miesmama from Upstate, NY,  JoieDeCleve from Cleveland, OH,  Retro Treasure Hunters from Manahawkin, NJ,  Botanic2Ceramic of Evanston, IL, Plumb Design Decor from Los Angeles,CA,  Soycomfort from Burleson, TX, PoFu Pottery from Ann Arbor, MI, Nat's Kreation's from Tampa, FL,  JenSan Candles from New Jersey, Forest Floor Fine Art Prints from Halifax, Nova Scotia,  Elysian Studios from Denver, CO, Uniquely Different Too! from Tyler, TX, Amy Giacomelli from Monument, CO.