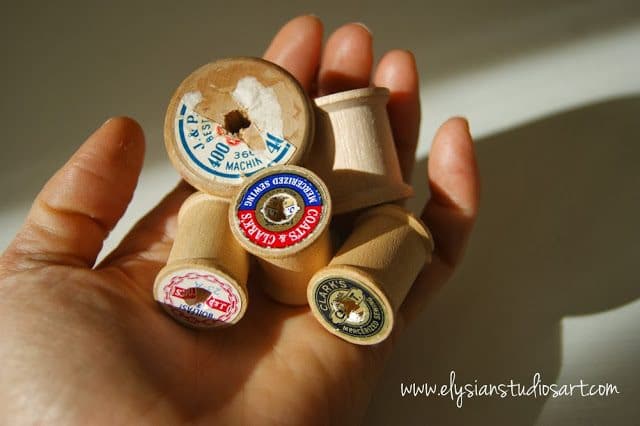 A couple of months ago, a dear friend of mine, Christine of One Kiss Creations, asked if I would participate in a fun blog hop with other artisans.  There would be a surprise element, which Christine would send us, that needed to be the main element of our design.  Always up for a challenge, I eagerly agreed, and was delighted when several vintage wooden spools arrived in the mail!  These were quickly added to a little collection I already had!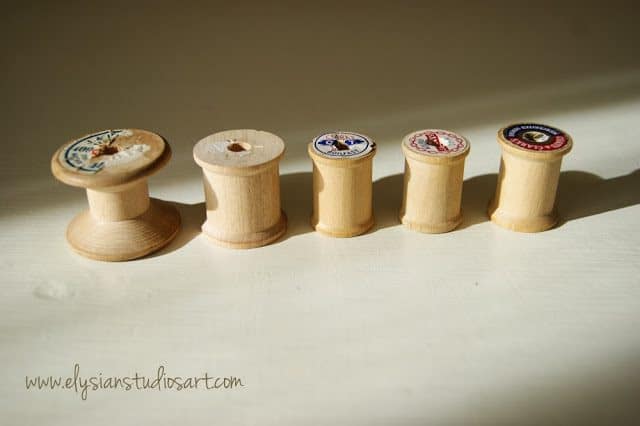 The spools in my collection are from my great-grandmother's sewing box.  I love how they are all different shapes and have different graphic labels, in various stages of wear.  Christine sent me the very large spool on the left, and the one with the wonderful chain graphic on the label.  Both of these got starring roles in my new painting.
Stitched In Time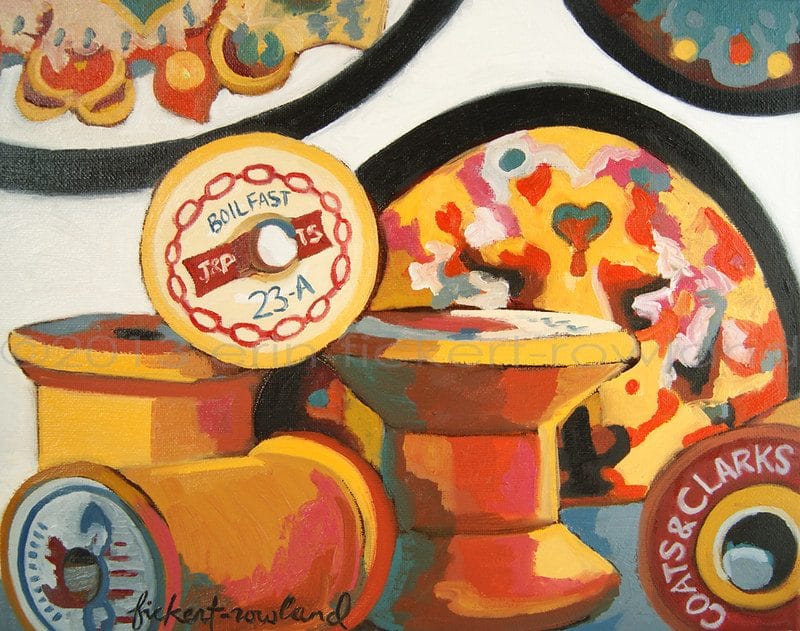 Stitched In Time, ©2013 Erin Fickert-Rowland, oil on canvas, 11 in x 14 in
These spools once contained beautifully colored threads which have now gone on to be woven with other fabrics and threads.  They were used to create something more beautiful and useful than what the original thread was by itself.  I don't know what the color of the spools were when they had their threads, but I hold onto the bare, softly worn wooden skeletons because I know they made something wonderful.
For this painting, I decided to inject my own feelings of color into the plain spools, and imagined beautiful tapestries their threads were used to create.  Vibrant, sunny yellows reflect sunlight, and warm tones of ochre, orange and reds shape the spools.  Strong black semi-circles in the background reflect the graphic design of the spools, and the signatures of the thread manufacturers are echoed by the signature of the artist.
This painting is very special to me because it was inspired by a dear friendship, loving memories of my grandmother, and my deep love of art and all things handmade. It is also the last painting I will create in 2013, in which I produced the most work of my career so far!
Thank you, Christine, for organizing this hop and inviting me to participate!  As a group we have created some truly beautiful, incredibly unique pieces of art that were not there when you found these empty spools in the antique store.  I am so proud to have been a part of this story: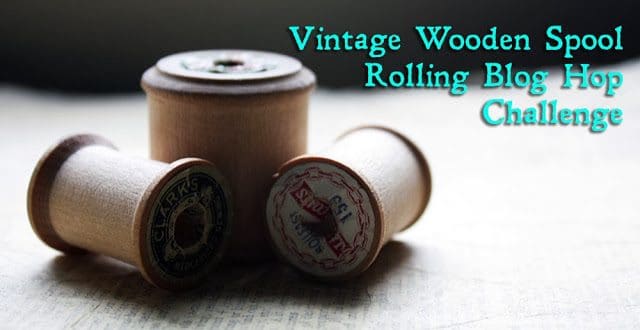 Photo courtesy of Crafty Hope
Fellow Participants:
Honey from the Bee ~ Crafty Hope ~ A Work in Progress ~ Zingala's Workshop ~ Beadsong Jewelry ~ Antiquity Travelers ~ Carefree Jewelry ~ Bead Contagion ~ kimmykats~ Antiquity Travelers (pt.2) ~ Backstory Beads ~ One Kiss Creations ~ Therese's Treasures
It's now time to enjoy everything special about this season, so this will be my last post for 2013.
Wishing you Happy Holidays and
a Very Happy New Year!

See you in 2014!