Recently, I have been spending more time with music: finding new artists to listen to, watching documentaries about music history and starting a new collection of vinyl records (read more here).  I found a rare vinyl 45 record of Jack White's "Fly Farm Blues" and started thinking about how this physical copy of a music recording relates to other objects that are important to me.
How can I compose these objects to share my feelings about music?
These are three new paintings which explore that idea:
"Spin It Like a Top"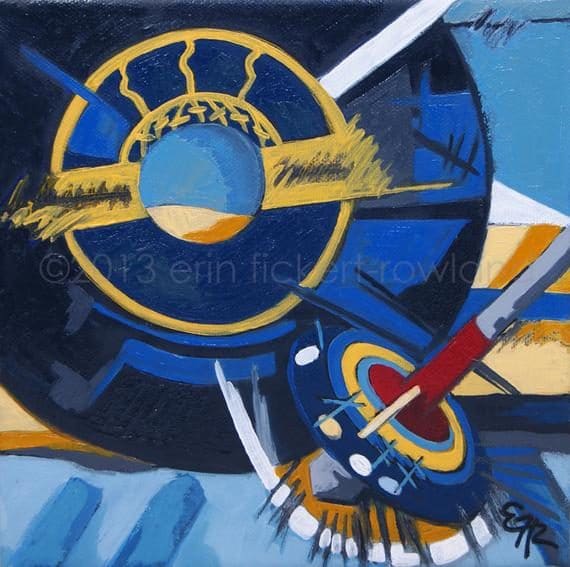 ©2013 Erin Fickert-Rowland,oil on canvas
A wooden toy top sits next to the record in this painting.  Both vintage objects provide enjoyable entertainment when they begin to spin.  Energy is required to propel both objects in to motion.  I have repeated circles throughout the composition and layered lines and multiple tones of bright colors to convey a feeling of energy and motion.
"Key To the Heart"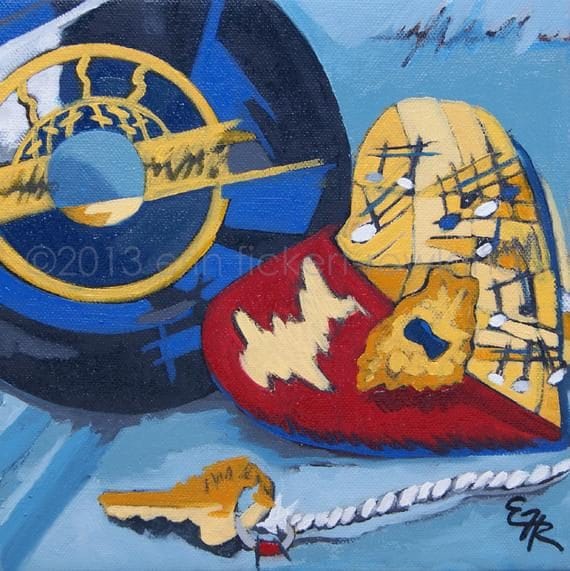 ©2013 Erin Fickert-Rowland, oil on canvas
Collecting art is equally enjoyable as collecting music.  I acquired this ceramic heart sculpture by a Colorado artist last summer, and I love the way the graphic shape of the heart works with the repeated circles in this composition.  The key has been removed from the lock, and energetic music notes are freely dancing.  Whether we are playing instruments, singing, dancing, or just listening, music allows us to unlock our emotions.  Love, anger, fear, jealousy, and happiness can all be expressed and experienced through music.
"Eat It for Breakfast"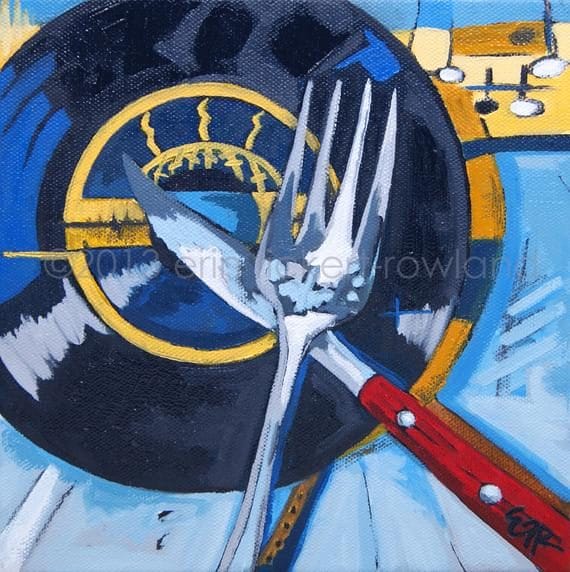 ©2013 Erin Fickert-Rowland, oil on canvas
Every day I start my morning with coffee.  As soon as that first steaming cup has been poured, I turn on the radio and tune in to my favorite local jazz station (KUVO).  Music is the first thing I consume, and it stays with me throughout the day.  You might say I "eat it for breakfast!"  I created a very graphic composition which contrasts the circle of the record with the "X" shape made by the fork and knife.  The record is meant to look like the plate, and it's about to be cut by the fork and knife!  Both the record and vintage silver fork and knife have shining surfaces that reflect and gleam.  Bright hues of blue and yellow, with just a pop of red, have been layered to create a richly colored image.
All three of these paintings are original oil on 8 inch x 8 inch gallery wrapped canvas.  
These painting were part of my show 
"Across the Spectrum"
at Zip 37 Gallery in Denver, June 7-23, 2013.


They are now available for sale online in my Etsy shop.