It is a rare opportunity for a viewer to step quietly and intimately inside an artist's creative journey, but that is exactly what artist Valerie Savarie has invited you to do…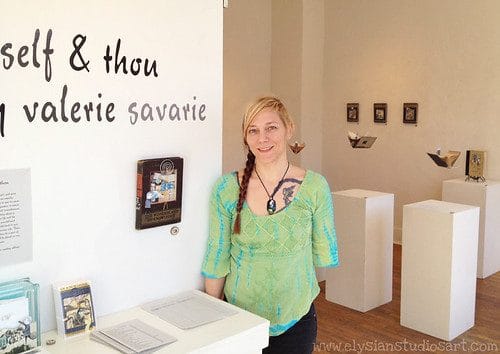 "me, myself & thou"
a collection of new work by Valerie Savarie
at Zip 37 Gallery in Denver, CO
March 15-31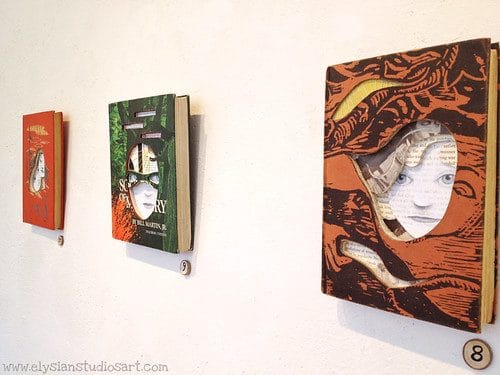 Right to left: "art living inside art", "one eye at a time (david bowie style)", and "am I dreaming?" ©2013 Valerie Savarie
A brilliantly inventive book artist, Valerie is passionate about peeling away layers of thick cardboard and age-worn text to reveal hidden meanings and disclose personal stories.  Through this process she also peels away the emotional distance between herself and the viewer, creating art that includes us in its narrative.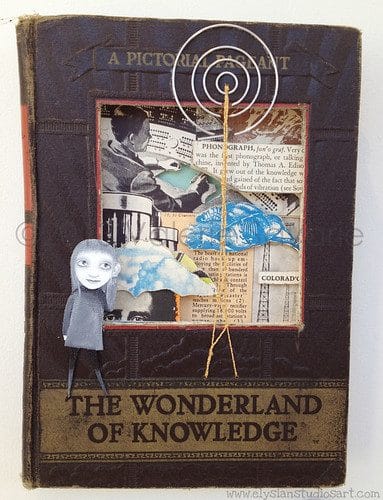 "music to my ears" ©2013 Valerie Savarie, Available by Silent Auction to benefit Radio 1190
The sculptures in this show each begin as a vintage book, many from the 1930's, which Valerie intricately transforms into rich pieces of mixed media art by adding painted, stitched and constructed elements.  She uses innocent faces and figures of childhood to depict imagined landscapes, often deeply rooted in her memories.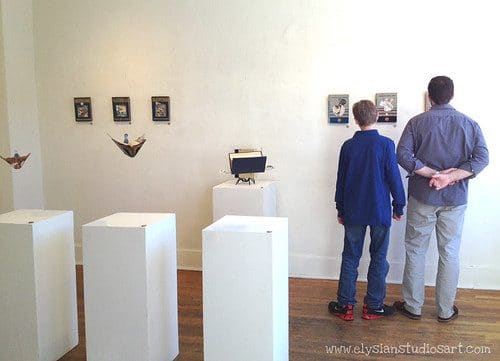 "me, myself & thou" at Zip 37 Gallery
As a viewer, you are inspired to step up close and look inside the previously "closed book" to engage with the artist's creative process.  Immediately one begins to wonder how this piece was made, and begins to identify with the small character in the scene.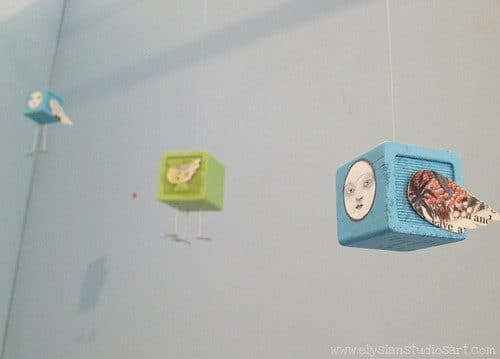 "flight of imagination" ©2013 Valerie Savarie
Valerie doesn't limit her art to the wall.  You will find pieces soaring and spinning in the air.  She encourages you to gently touch them.  She wants you to experience creative delight.  This is a beautiful, refreshing show suitable for all ages, and one that encourages you to linger.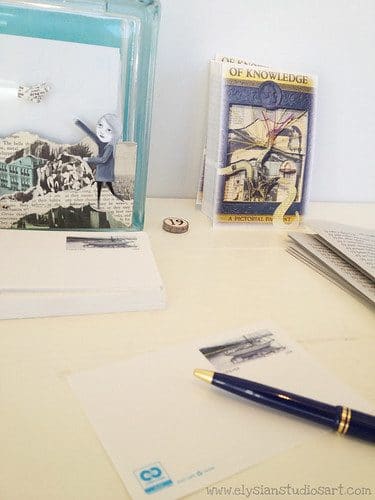 Fill out a postcard and receive a small piece of original art!
To further the dialogue between artist and viewer, Valerie has invited each gallery guest to fill out a postcard sharing how they were inspired by her art.  In return, she will be mailing back a small original piece of art!  
Art is powerful when it is allowed to get off the wall and be freely exchanged.  It reaches its true potential when the distance between the artist and the viewer is bridged, allowing a deep sense of connection and harmony to develop.  I greatly admire Valerie's work and this beautiful show she has created to share with us!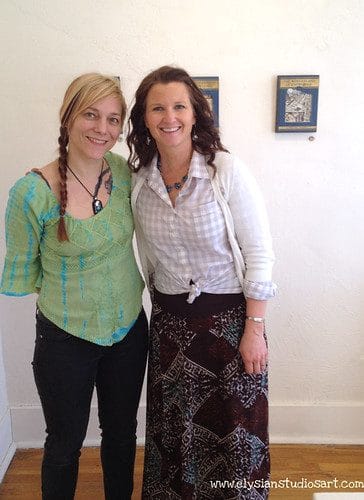 Valerie Savarie and Erin Fickert-Rowland at Zip 37 Gallery
To learn more about Valerie and her extraordinary art, please visit
her page at the Zip 37 Gallery website, 
or at www.valeriesavarie.com
She has also recently started a new blog (which is already amazing!) titled "arterage"
There's more to see at the show, so if you are in the Denver area be sure to stop by Zip 37 Gallery before March 31, 2013.
Click here for hours and directions.
Follow my blog with Bloglovin