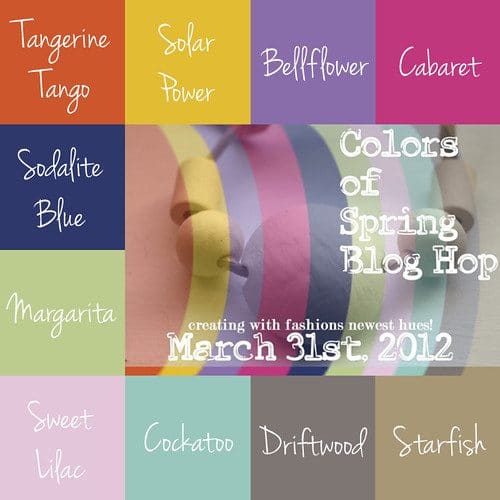 Welcome to the Colors of  Spring  Blog Hop!
Sally Russick of The Studio Sublime is hosting this fun hop that challenged 23 designers to create jewelry inspired by Pantone's Spring 2012 Color Palette. We each purchased a set of hand-enameled ceramic beads in one of the ten colors, and then Sally sent us a  second surprise color to make the challenge even more interesting.
My color was "Solar Power" and my complementary color was "Tangerine Tango."  I immediately thought of the beach: the brilliant yellow sun complimented by bright pops of color from beach umbrellas, bathing suits and beach balls, and the warm golden, shimmering colors of sand and shells.
I had been wanting to try my hand at micro-macrame, and this seemed the perfect necklace to showcase this technique. I coupled multiple strands of micro-macramed size 6 seed beads with simple strands of size 11 seed beads. This creates a beautiful texture and softness that wire-linking or simple stringing can't replicate.  Though finishing the piece was technically challenging, I successfully secured all of the strands with wire guards and crimp covers for durability.  I am so excited to show you!