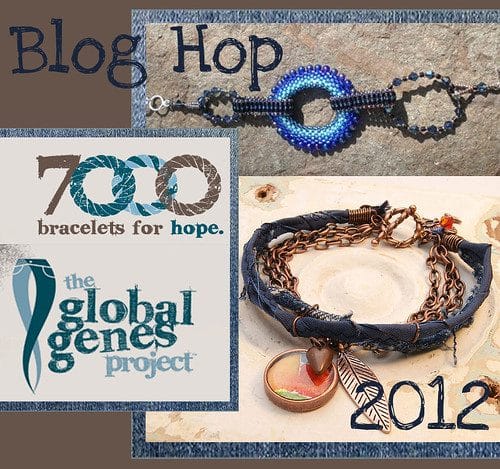 (*Sign-Ups are now Closed.  Please visit our Hop on Feb. 25th!*)
Want to create a piece of jewelry, have fun with other artists and support a great cause?
Join me and my friend Christine of One Kiss Creations Beaded Jewelry as we make bracelets to support the 7000 Bracelets of Hope campaign!  We both met last year during the bracelet hop sponsored by Lori Anderson, and when we received requests from the wonderful folks at the Global Genes Project for more bracelets, we thought we'd team up and see if other people wanted to participate and show off their designs!
What is The Global Genes Project and what are 7000 Bracelets of Hope for?
The Global Genes Project exists to raise awareness and support for the more than 30 million people affected by rare diseases. There are currently over 7,000 rare diseases identified, and 75% of those affected are children.  With the 7000 Bracelets Campaign, the Children's Rare Disease Network gives artists and crafters an opportunity to lovingly share their creative gifts with families who have a child suffering with a rare disease.  
How can you get involved?
Make a bracelet with a blue/denim theme.  Any materials are fine, and simple, casual designs are perfect.  If possible, make your bracelet adjustable, since we don't know the wrist size of the recipient (memory wire, stretch bead cord, or adjustable clasps are good options).  Then photograph your bracelet and place it on your blog for the hop on February 25th.
To sign up, leave a comment with your blog address in the comment section at the end of this post (or pop over to Christine's blog and leave one there).  Make sure your email is activated (read more about that here).  We are accepting sign-ups until Saturday Feb. 11th, and will email you a list of participants to put on your blog post for the reveal on Saturday, Feb. 25th.  Don't have a blog? That's OK! Email me your photo and I will be happy to share it here on my post.
After the hop, please mail your bracelet and an encouraging note to:
Children's Rare Disease Network
24701 La Plaza- Suite 201
Dana Point, CA 92629
Grab this button to share on your blog, and invite your friends to participate!  We're going to have a ton of fun!