"Monet's Garden": New Necklace Design
Categories: jewelry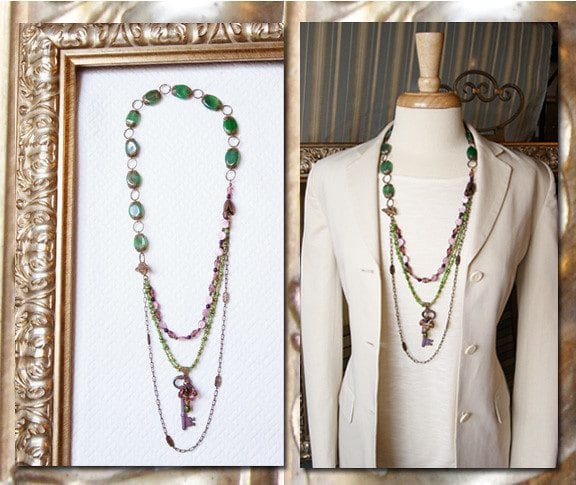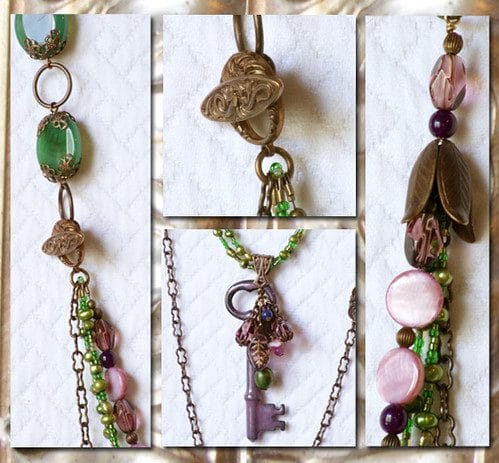 My new necklace design was inspired by this beautiful purple enameled key made by Laura Guenther for Blue Antiquities. Immediately, I began to think of the precious nature of a vintage key.  
What would inspire someone to wear it? 
The key to a secret place…a beautiful place…a secret garden… Monet.
The purple beckoned the pinks and greens.  Natural elements soon followed: pearls, botanical shapes, and a sweet little Vintaj brass bird (seen better here).  In fact, the gorgeous tones of the hand-finished Vintaj brass components were an easy choice to complete the design and accentuate the key.
I dressed the necklace up for a day at the office or special meeting by pairing it with a simple knit tee under a cream blazer.  However, this could be worn around town with a drapey solid-colored  knit tee and jeans, or with a simple, flowy summer dress to a garden party!
Spread The Love, Share Our Article