Featured Artist: Joe Higgins
Categories: Featured Artist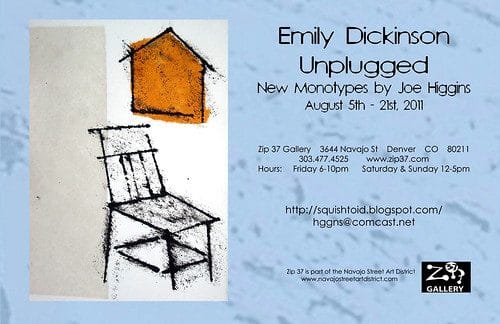 "Emily Dickinson sought an identity in a society that offered few choices- mother, person of faith- to women.  Dickinson rejected the revivalists and rarely left her room, where she met God, the Devil and the details of meaning and poetic space on her own terms."
-Joe Higgins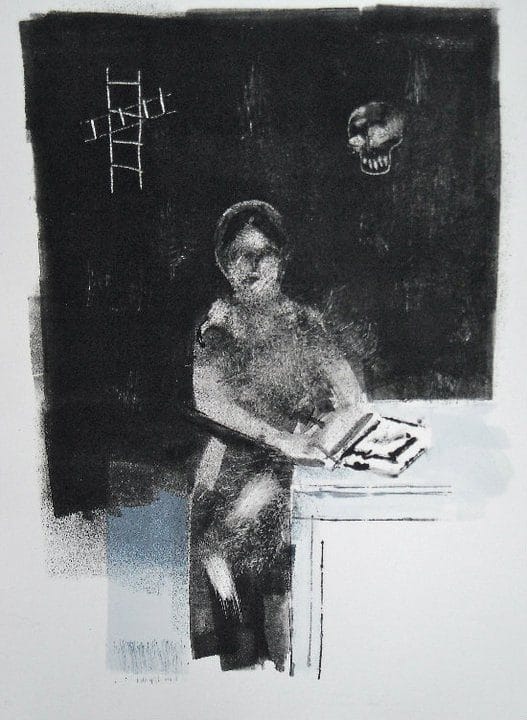 "Alone I Can Not Be" original Monotype by Joe Higgins
I had the great pleasure of viewing "Emily Dickinson, Unplugged" last weekend at Zip 37 Gallery in The Navajo Street Art District.  This solo show by Monotype Artist, Joe Higgins, is an aesthetic adventure into the poetry of famed recluse Emily Dickinson.
Poignantly graphic and stark in color, Joe's newest body of work is a compelling visual tribute to Emily's beautiful writing and tragic solitude.  Verses and phrases of her poetry provide the creative spark to his imagery.  Her obsession with love, death, writing and the choice to remain cut off from the outside world is conveyed in the stark lines, isolated figures and muted colors of Joe's Monotypes.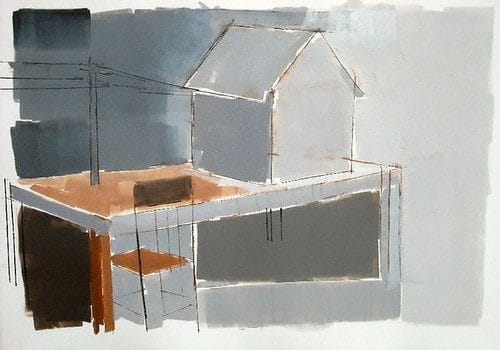 "Transmission" original Monotype by Joe Higgins
I particularly love this piece, titled "Transmission," which explores the idea of Communication.  Thoughts quietly handwritten at a desk transmit ideas from the author.  But do they stay there? Are they confined within the house or building where they are written, or are they transmitted and dispersed across other lines of communication, like telephones, and the internet?  And how long does it take for the ideas to transmit from one place to the other, and what venue has greater weight?  
I find it fascinating that Joe decreases the scale of the elements that traditionally have more power.  A sturdy telephone pole looks like a child's plaything next to a cold, closed house that shows no sign of love or affection on top of the strong, bold desk- the only source of warmth and heat in the image.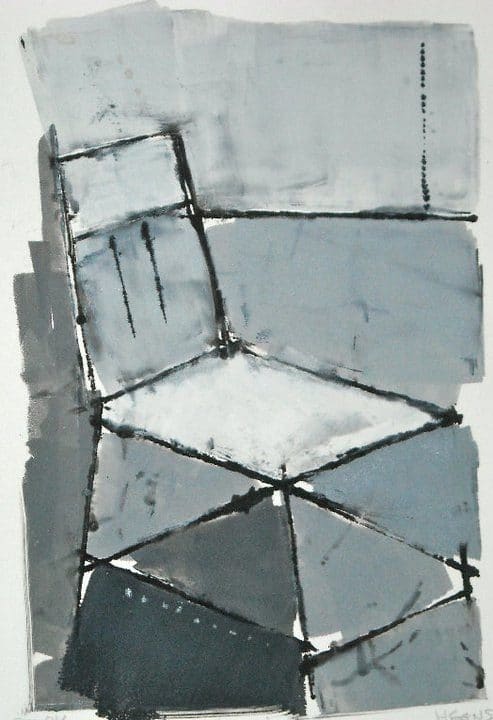 "Study" original Monotype by Joe Higgins, Collection of Erin Fickert-Rowland
I was also fond of this little piece, which I couldn't resist bringing home with me!  I love the calm, quiet grey swaths of color, and the dynamic inky lines that compose the chair.  Joe uses the image of the simple desk chair often in his work, so I felt this piece was indicative of his style.
You can learn more about the process of making Monotypes by taking a workshop with Joe Higgins at the Denver Art Student's League.  He also writes about his process and shows on his blog "Squishtoid", where "it's squish or be squished!"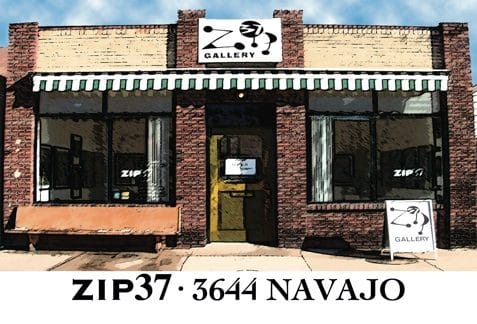 Joe Higgins' work can be seen regularly at Zip 37 Gallery in the Lower Highlands neighborhood of Denver.  His solo show runs through August 21, 2001.  Joe also braves the elements and can be found at many outdoor Art Festivals in Colorado, including Salida, Boulder and Denver.  He is a very active member of the Denver art community and has a promising career ahead of him!
Spread The Love, Share Our Article