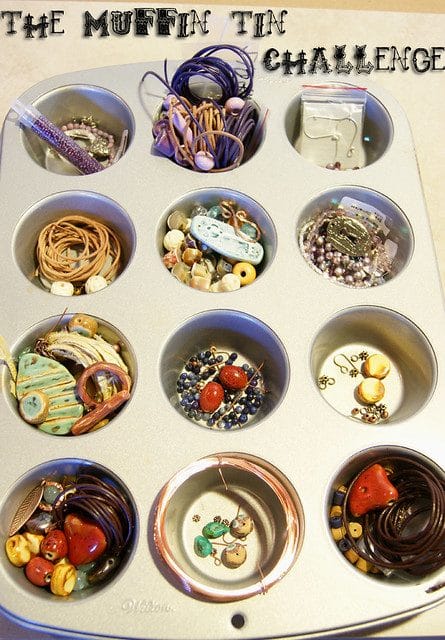 A Beaducation: The ABS Muffin Tin Challenge
Categories: Artists at Play, blog hop, Elysian Studios, jewelry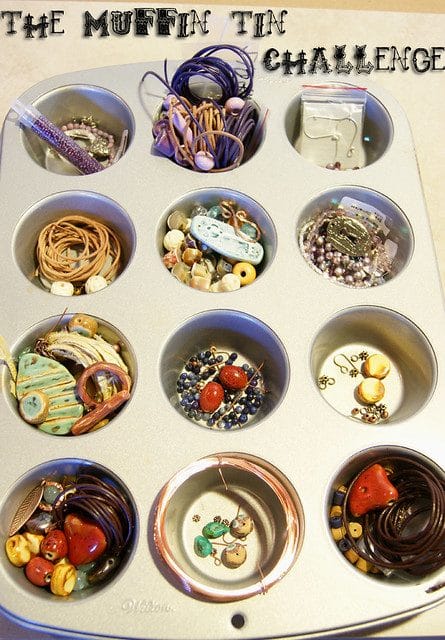 Once again, Heather Powers of Humblebeads has inspired the Art Bead Scene community to get creating! The Challenge was simple: take a 12 cup muffin tin and fill it with all the components you would need for twelve different jewelry projects.  The goal: complete them in one week! 
This proved to be quite challenging for me, but I am so happy I dove in and gave it a try! Let me share a few things I learned along the way:
1. Stringing magazine is an invaluable resource.  With a task of twelve pieces in front of me, and a short deadline, I chose to break out my magazines and try some of the gorgeous designs I had been swooning over.  The process forced me to use a variety of new techniques and materials. (I have credited the original design inspiration below each photo)
2. Just because you pick out a design and all of the components in a brilliant color scheme, doesn't mean they will actually work.  Bead hole sizes and stringing material thickness are a consideration not to be overlooked!
3. The bead reamer can be your friend (for the above problem), but you better be patient and bring plenty to drink. (You have to keep the bead and the reamer constantly wet…but wine helps take the edge off your frustration!)
4. Dyed beads and gemstones may not be colorfast. I started with some blue-dyed quartz, but the color all rinsed off when I was reaming the holes!
5. I love some wirework! Stock your jewelry with all gauges of copper, sterling silver and silver plated wire.  Be sure to keep each variety of wire in its own plastic baggie labeled with the material and gauge. It's very easy to get in a creative frenzy and get your wire mixed up!
6. Making your own wire components (clasps and earring wires) is actually quite simple! It is cost effective, and allows you more creative freedom.
7. Liver of Sulfur really isn't that hard to use to patina the metal in your jewelry, but whew! does it stink!
8.  Art Beads and handmade components make all the difference in your jewelry, and are worth the added expense! I have credited any handmade components below the photos.
9. Be flexible when you're making jewelry.  You may have to adapt your design due to unforeseen problems, or you may have to edit out some of the materials you thought you'd use. However, this may allow you to stretch your supplies to make a few extra pieces!
10. The "Muffin Tin Method' can be applied to a lot of creative endeavors, and is a great way to push yourself to create a collection of work.
Without further ado…
here are my twelve new pieces of jewelry!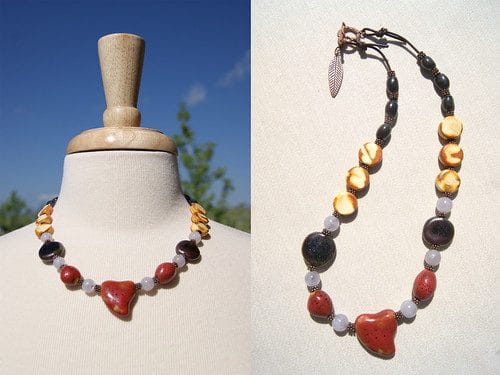 Inspired by Patti Gustafson in 2011 Bead Buyer's Guide, Brown Ceramic beads hadmade by MaryAnn Carroll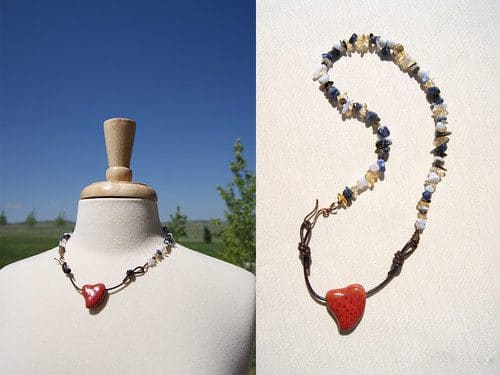 Inspired by Erin Siegel in Stringing Spring 2011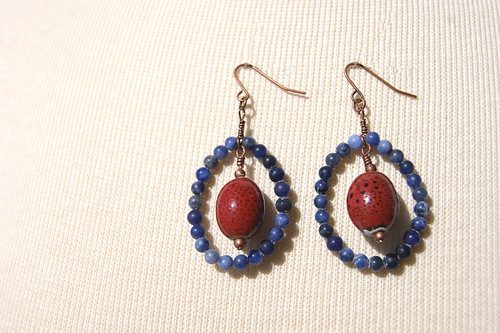 Inspired by Lisa Petrillo in Stringing Summer 2011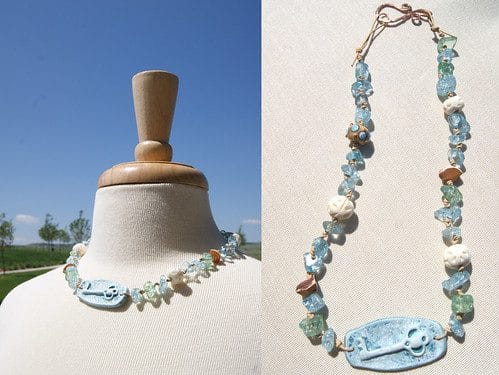 Inspired by Gaea Cannaday in Stringing Summer 2011, Polymer Clay Key Focal handmade by Erin Fickert-Rowland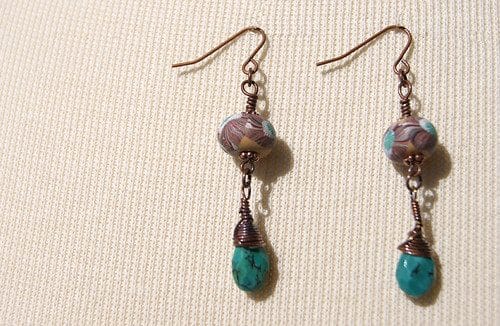 Polymer clay rounds handmade by Humblebeads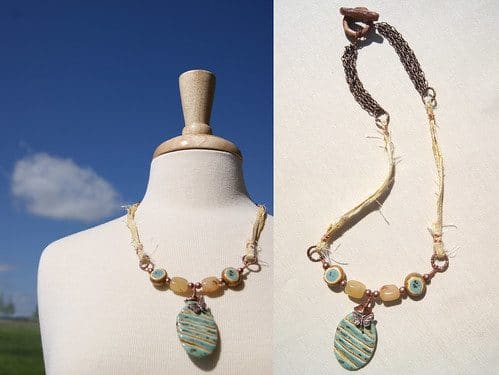 Inspired by Denise Yezbak Moore in Stringing Summer 2011, Ceramic focal and coordinating rounds by MaryAnn Carroll,
Polymer Clay toggle clasp and Silk ribbon handmade by Erin Fickert-Rowland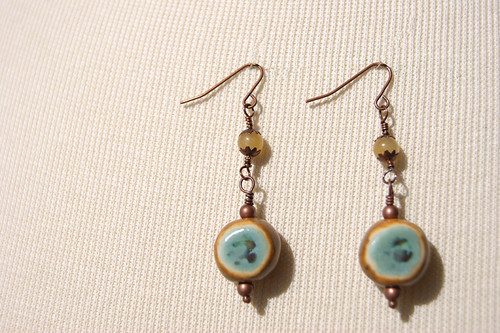 Ceramic Rounds handmade by MaryAnn Carroll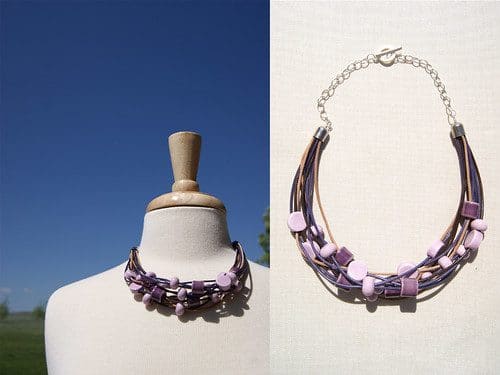 Inspired by Cynthia Dies in 2011 Bead Buyer's Guide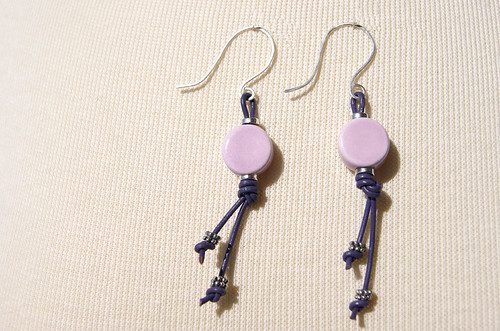 Inspired by Erin Strother in Stringing Summer 2011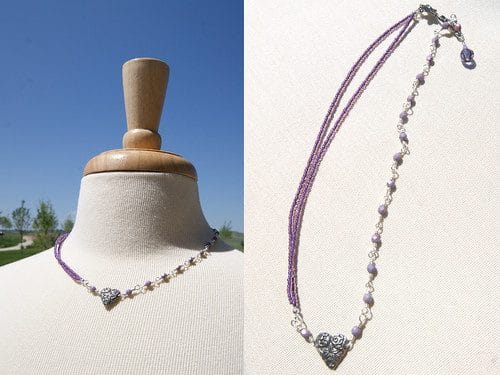 Inspired by Cynthia Thornton in Enchanted Adornments, Pewter Heart focal handmade by Green Girl Studios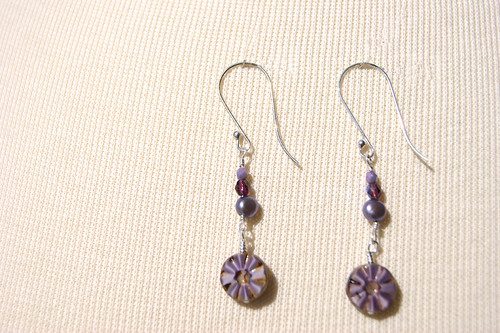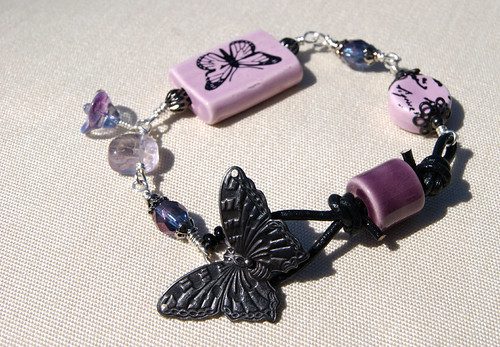 Clasp inspired by my friend Shannon of For My Sweet Daughter
On another note, many of you have inquired about where all of my original work is available.  I am working on building a new online shop and hope to have it up and running soon!
Art Bead Scene has posted a list of the Muffin Tin Challenge participants.  Stop by to see what other jewelry artists have created!
Spread The Love, Share Our Article