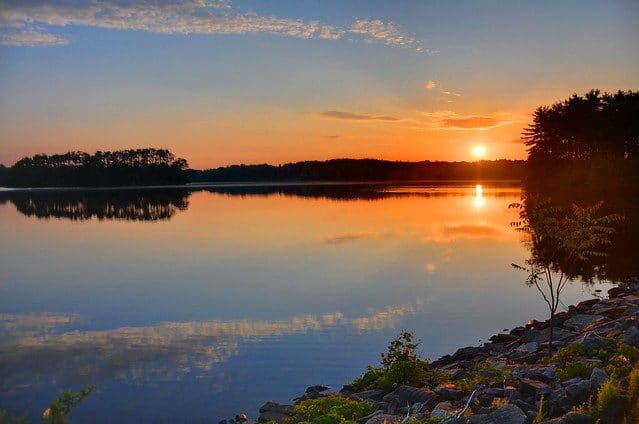 Photo by Christopher s. Penn via Flickr
 
Julia Cameron, author of "The Artist's Way," includes the daily practice of "Morning Pages" as an essential tool in the path to unblocking one's creativity.  Morning Pages is simply a daily ritual of writing three pages of "stream of consciousness" writing.  This must be done first thing in the morning, as the purpose is to get your creative brain flowing, thereby releasing any "gunk" in your mind.  Similar to the first morning stretches, or eating breakfast, to awaken your body and get your metabolism working, these pages are to become essential in awakening your mind each day. There is no right or wrong content or method, the key is to just do it, and do it daily.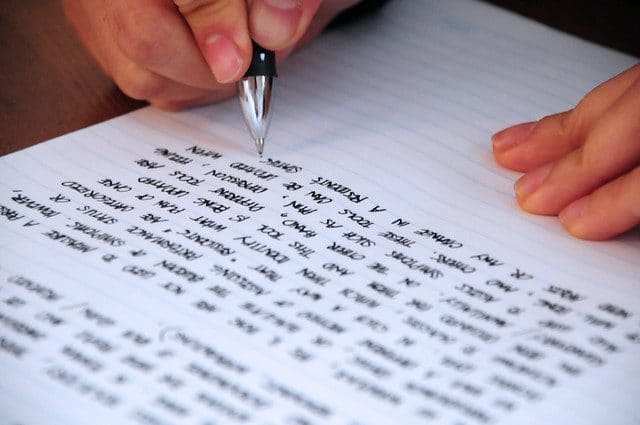 Photo by jjpacres via Flickr
This writing is not meant for an audience.  You may not even want to revisit what you have written.  It is merely a personal daily exercise to connect with your inner creativity, and to release the thoughts and fears that inhibit your performance each day.  I have just started my practice, and plan to continue it for many years to come.
Since I will be collecting a lot of notebooks, I'd love something beautiful to write in, and consistency of the notebook collection would be nice.  Writing in something that feels more special than just a utilitarian notebook creates motivation to pursue your practice. 
Coincidentally, my children have just brought home a collection of scarcely filled composition books from school.  I've claimed these mismatched notebooks for myself and transformed them into beautiful fabric covered journals with ribbon bookmarks for writing my Morning Pages. You can easily do this too!
Make Your Own Fabric Covered Journals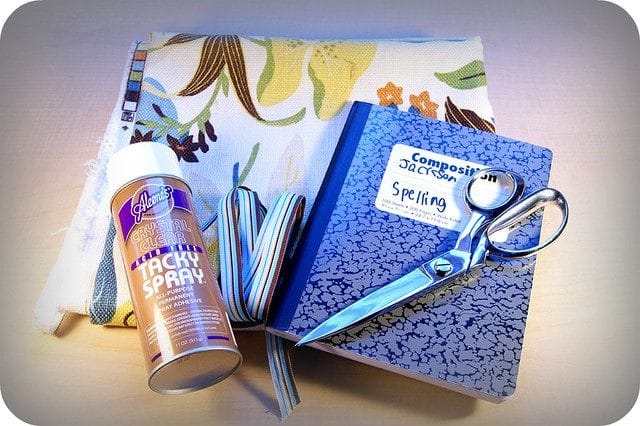 You will need:
Composition notebooks
Fabric (heavy enough to hide pattern/writing of notebook)
Ribbon (grosgrain will not fray)
Scissors
Spray Adhesive, plus extra white glue to secure corners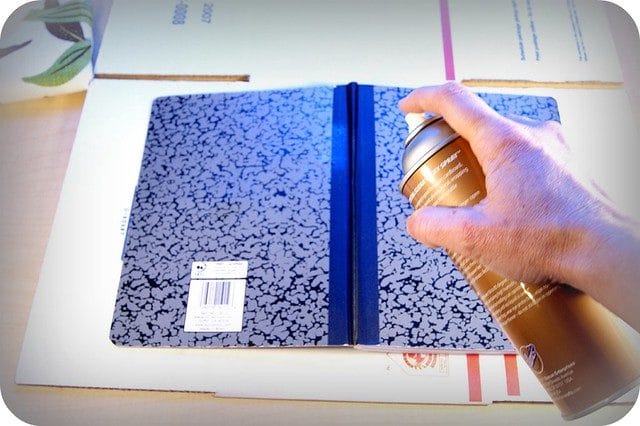 Lay the book flat, with the exterior facing up.  Place the notebook on a work surface, like a cardboard box or craft paper.  Spray adhesive liberally over the notebook cover.
Press ribbon down along the spine of the notebook.  Position the end of the ribbon so it is about one inch above the edge of the notebook.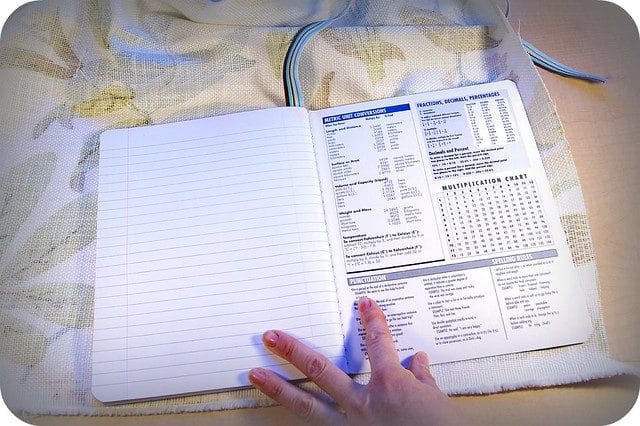 Flip the notebook over on top of the wrong side of your fabric. Press down.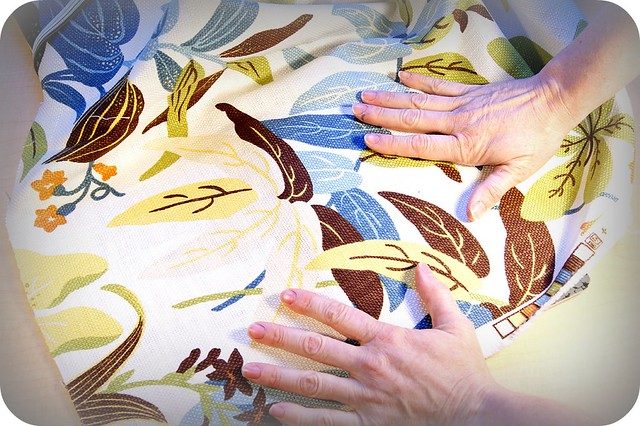 Flip the book and fabric over and smooth out any air bubbles or wrinkles.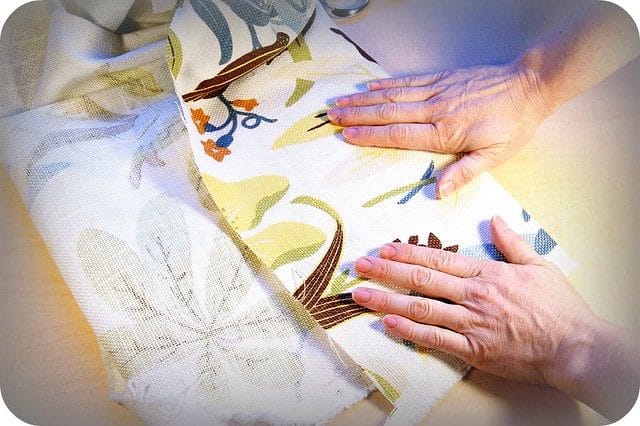 Fold the notebook closed so that the fabric is sufficient to cover all the way around the notebook.  If the notebook doesn't close properly, you can pull up the fabric, respray the adhesive in the problematic area and re-smooth.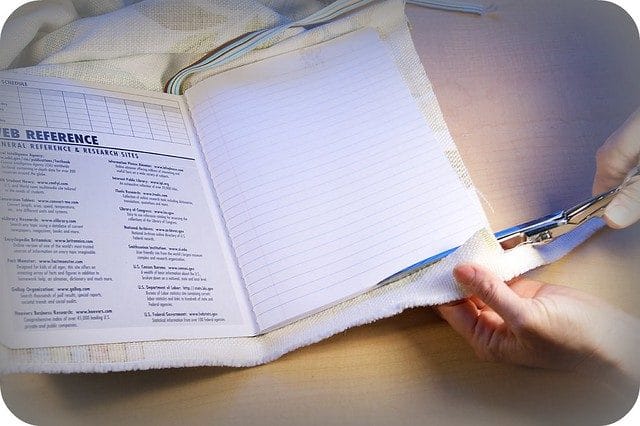 Open the notebook, and using scissors, trim the excess fabric from the edges.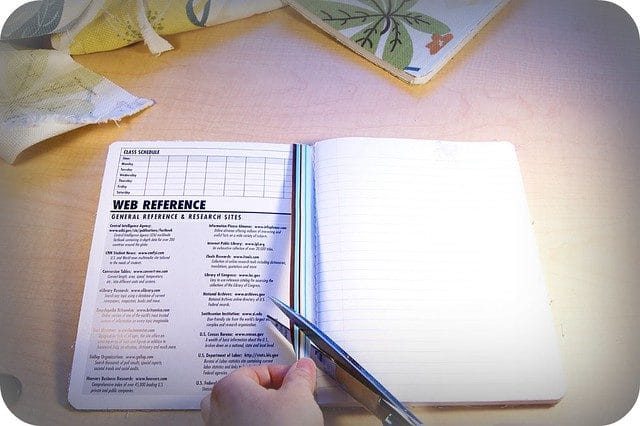 Trim the ribbon into an attractive diagonal or dovetail end for your bookmark.  If your ribbon begins to fray, add a little Fray Check or white glue to stabilize the end.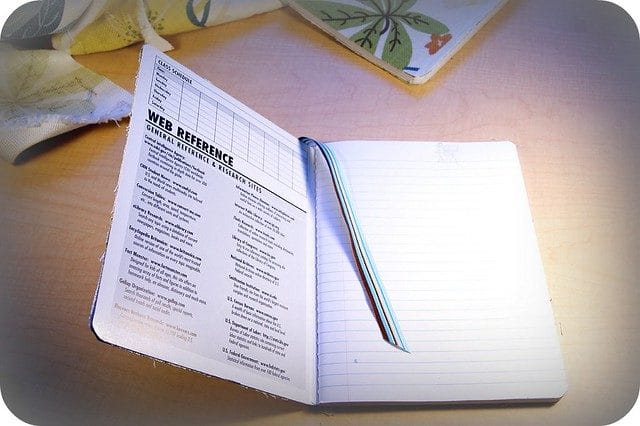 You now have a pretty notebook, with a handy bookmark, in which you may unleash your inspired writing!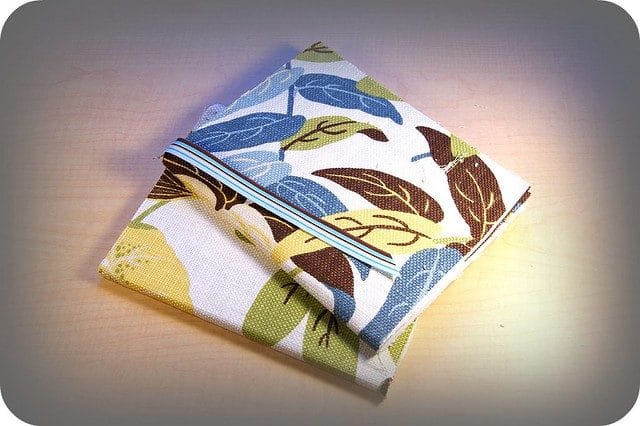 Have you ever written Morning Pages? Do you have a regular writing routine? Would you like to start this habit with me? I'd love to hear about how you unblock your creativity and get your ideas flowing!