"Boho Beach": New Jewelry Collection by Elysian Studios
Categories: beads, Elysian Studios, jewelry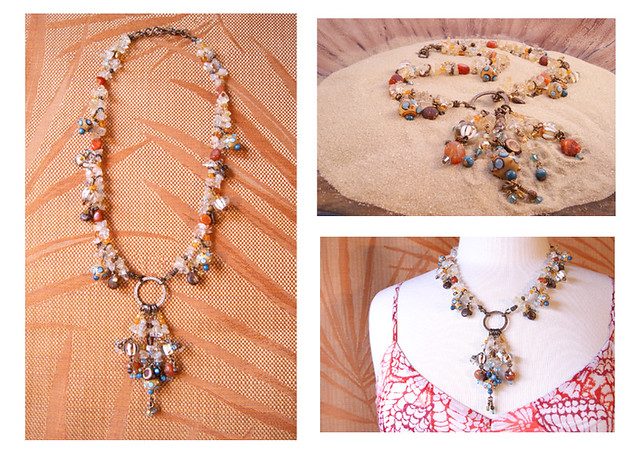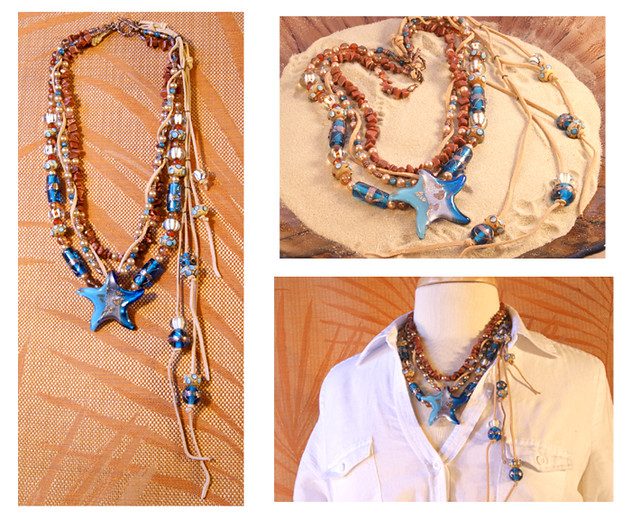 These are the first two pieces in my new "Boho Beach" jewelry collection.  Featuring multiple strands in glittering orange, pearly creams, and vibrant blues, these pieces are meant to be statements that easily coordinate with a casual, beach wardrobe.
The first necklace features a hand-linked, clustered focal.  Multiple links of colorful glass beads, quartz stone chips, and sparkling crystals, hang from a Vintaj "Eternity Garden Ring."  For the necklace, two strands of quartz crystals are intertwined and highlighted with fire-polished rounds, orange stones, Vintaj jump rings, and linked dangles of glass and wood beads.  The piece is finished with a Vintaj Hook & Eye clasp set.  I also made a coordinating pair of earrings.
The second necklace sparkles with strands of goldstone, Crystazzi pearls, Carnelian faceted rounds, and metallic glass beads.  The glass starfish focal coordinates with the blue/copper tube and round beads.  To add to the "boho" vibe, I added a swaying fringe of natural suede lace that drapes down the side of the necklace- it is so fun to wear!
All that's needed is a straw cowboy hat, a beach with gently crashing waves, and a Pina Colada! Well, a girl can dream….
Spread The Love, Share Our Article