Art Tour: Henry Moore at Denver Botanical Gardens
Categories: abstract, Art Education, Art History, Colorado, family, landscape, portrait, Rocky Mountains, sculpture, travel
"Sculpture should always at first sight have some obscurities, and further meanings.  People should want to go on looking and thinking; it should never tell about itself immediately." -Henry Moore, 1968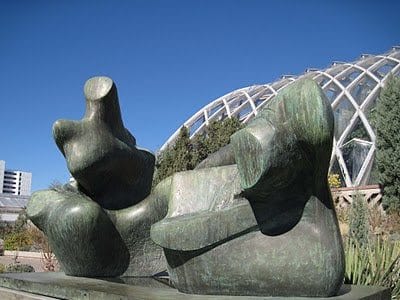 "Two Piece Reclining Figure: Points"bronze, by Henry Moore, 1969, at Denver Botanic Gardens
Born in 1898, Henry Moore's most iconic works were produced in the 50's and 60's, but his international influence has become timeless.  From an impoverished miner family in England, his father encouraged Henry and his seven other siblings to obtain formal educations.  Inspired at an early age by Michelangelo, Henry began carving sculptures from clay and wood as a child, and later earned a six month scholarship to travel Italy and study sculpture. After a brave term of service to his country, where he was injured in a gas attack during the Battle of Cambrai in 1917, he became the first student of sculpture at the Leeds School of Art (now Leeds College of Art), which set up a sculpture studio especially for him. Moore was a pioneer of modernism, who's signature form is a reclining figure. He created an impressive number of monumental public sculptures, and left a legacy in the Henry Moore Foundation,which supports exhibitions and research activities in international sculpture.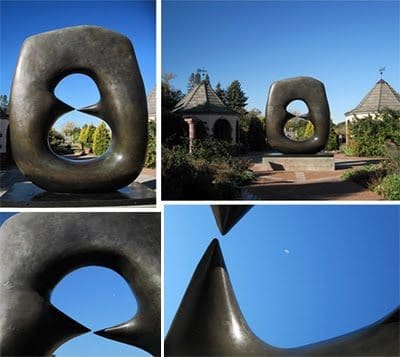 "Oval with Points" bronze, by Henry Moore, 1968-70, at Denver Botanic Gardens
I am in awe of Henry Moore's work.  His ability to abstract both human and animal forms, taking elements from figurative poses and skeletal bones, and create pieces that dance as your perspective shifts when you walk around them, completely mesmerizes me.  These sculptures harmonize with the landscape in a way that makes every other garden and park seem lacking once you have experienced the impact of these amazing pieces.  They inspire children to climb (though, for good reason, very strictly forbidden!), photographers to snap countless images, groups of spectators to comment and critique, and artists to sketch.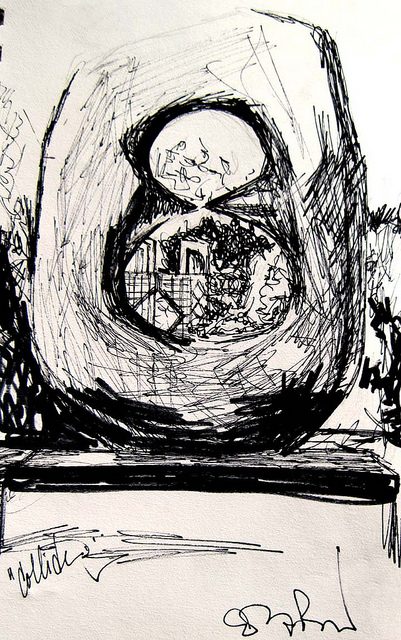 "Collide" sketch by Erin Fickert-Rowland after "Oval with Points" by Henry Moore
Now through January 31, 2011, there is a phenomenal exhibit of Henry Moore's work on display at the Denver Botanic Gardens. Visitors will find monumental reclining figures and colossal abstracted forms throughout the Gardens' York Street location; two works stand in front of a unique foothills backdrop at the Chatfield site. Their are tours and activities you can include in your visit, or just meander peacefully through the beautiful grounds and enjoy the sights, which are just as lovely on a crisp Colorado winter's day as they are in the lush summer.  Fun for all ages, this exhibit is a must see!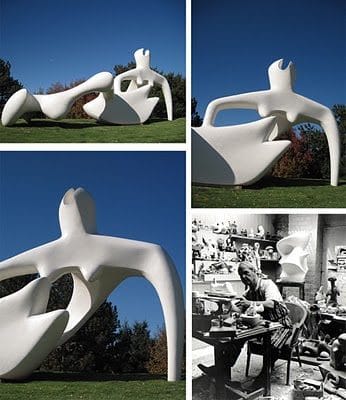 "Large Reclining Figure", bronze, by Henry Moore, 1984, at Denver Botanic Gardens, and photo of Moore in his studio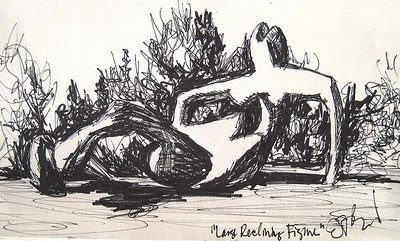 "Basking" sketch by Erin Fickert-Rowland after "Large Reclining Figure" by Henry Moore
Spread The Love, Share Our Article