Introducing …
"Irreverent Couture" by Elysian Studios
a new line of studio jewelry featuring bold combinations of fiber and beads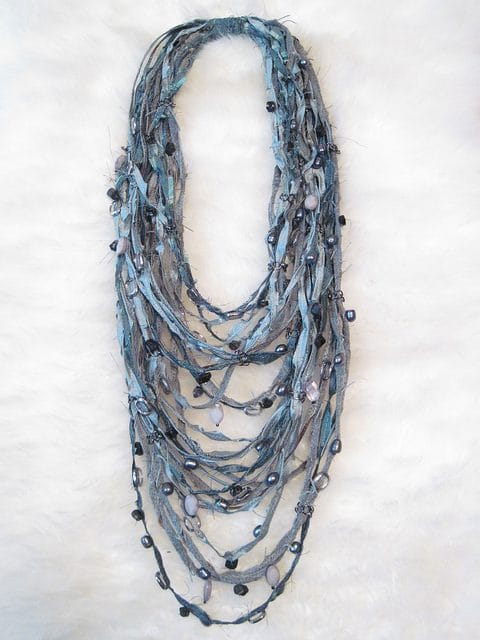 This statement necklace features sewn strands of silk, polyester and cotton fabrics in complementary colorways of slate and teal.  Glass, stone and pearl beads have been artfully arranged and handsewn on the necklace, with some strands cinched by black metal chain.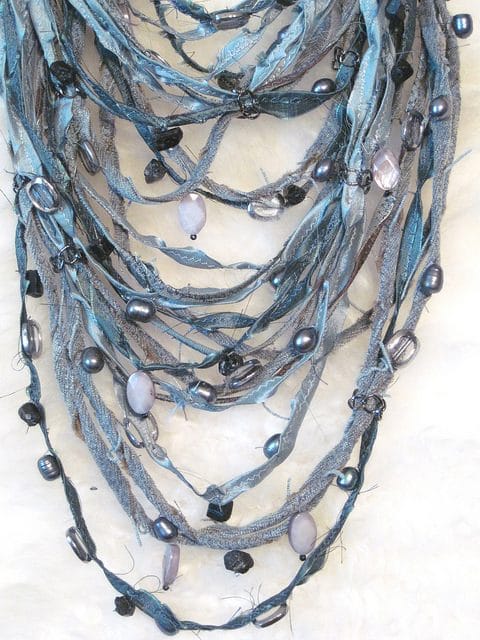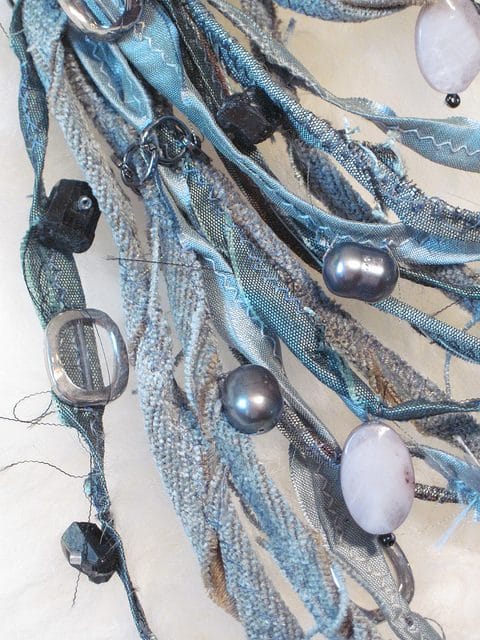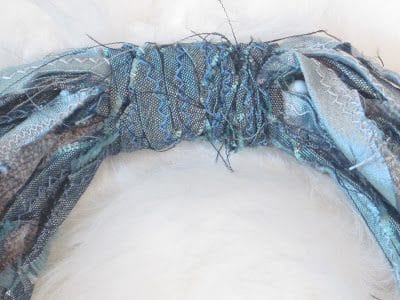 The fibers have been allowed to fray, creating a natural fringe.  In place of a traditional clasp, the necklace has been bound with a silk cord.  This glamorous piece makes a statement with even the simplest of outfits, and can be worn casually or to a more formal event.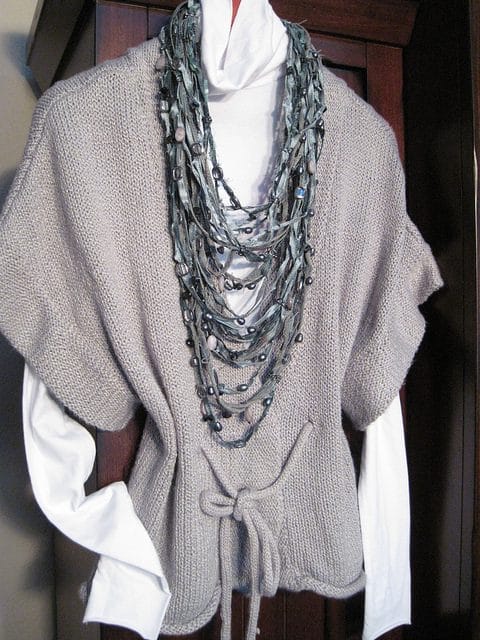 Grey Cardigan by Elle, White Turtleneck by energie, both available at Kohl's
The beads and theme were chosen by Lorelei Eurto and purchased from Michael's Arts and Crafts: Peacock freshwater pearls, gunmetal chain, faceted mother of pearl ovals, chunky black nuggets and some glass that is transparent with silver edges.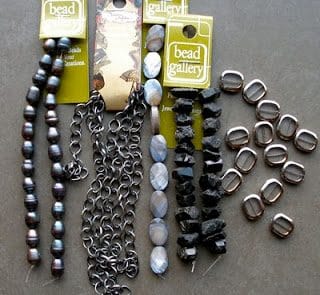 I'd like to thank Lorelei, for organizing this blog hop, and her amazing eye for beads, that have now inspired two necklaces of mine.  I would also like to thank my steadfast model, Darth Vader, who stood for hours without complaint whle I built this necklace!  Maybe he could use the Force to bring me a dressform for my next project!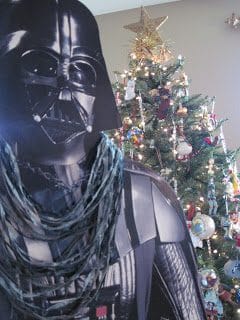 For more inspired pieces, follow the blog hop list below, and have fun!
http://lorelei1141.blogspot.com/ http://threeredbeads.blogspot.com/
http://starcitystory.blogspot.com/ http://erinsiegeljewelry.blogspot.com/ http://www.thistlefarmarts.blogspot.com/ http://therabbitmuse.blogspot.com/ http://lindalandig.wordpress.com/ http://dreamsomedesigns.blogspot.com/ http://rosebud101-fortheloveofbeads.blogspot.com/ http://jenjuddrocks.blogspot.com/ http://formysweetdaughter.blogspot.com/ http://www.mylifeunderthebus.typepad.com/ http://deborahmpurdy.blogspot.com/ http://beadhappytoday.blogspot.com/ http://pinkicejewels.blogspot.com/ http://craftyhope.blogspot.com/ http://gr8findings.wordpress.com/ http://tropicbeads.blogspot.com/ http://melissaruth.com/blog/ http://maryhardingjewelrybeadblog.blogspot.com/ 
http://beautifullybrokenme.blogspot.com/