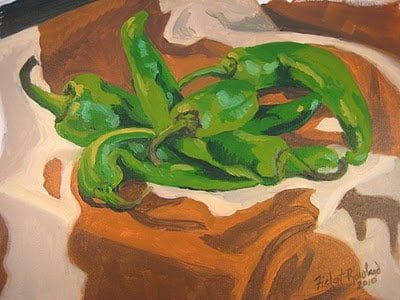 "Longhorn Chiles" oil on canvas, mounted on board by Erin Fickert-Rowland
Growing up in New Mexico as a child, I have many memories of roasting and drying large quantities of green chiles.  I still adore them in just about everything, including my own recipe for Green and White Chicken Chili! Serve with cheese quesadillas and enjoy!
Click here for Printable Recipe
Green and White Chicken Chili
Ingredients:
1 teaspoon olive oil
1 onion, chopped
4 boneless, skinless chicken breasts, cubed
4 cloves garlic, minced
2 fresh mild green chiles, seeded and chopped
1 packet McCormick's White Chicken Chili seasoning
1 can diced tomatoes with Mexican seasoning
2 cans chicken broth
2 cans great northern beans, drained
1. Heat large pot or dutch-oven over medium heat.  Add olive oil and onion, and cook until translucent.
2.Add chicken and cook until done.  Remove chicken and onion mixture from pot, and set aside.
3. Add garlic and green chiles to pot (add a little more oil if needed).  Cook 1-2 minutes.
4. Return chicken mixture to pot.  Add chili seasoning packet.  Cook 1 min.
5. Add all remaining ingredients.  Bring to a boil.  Reduce heat and simmer, covered, 1-2 hours.
6. Season with salt and pepper as desired, and top with dollops of sour cream.  Serve with cheese quesadillas on the side!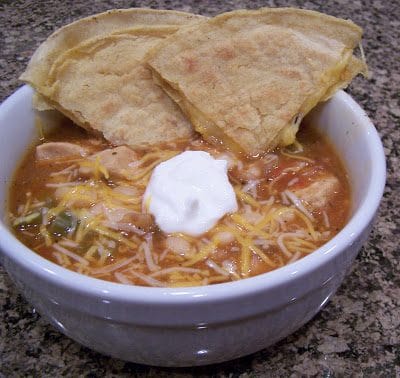 Green and White Chicken Chili