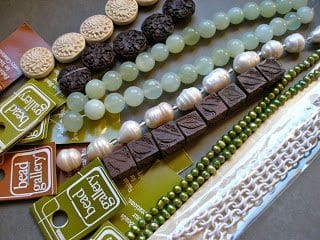 Beads Lorelei chose for the competition
I am about to participate in my first Art Challenge, initiated and organized by Lorelei's Blog .  She picked out five different strands of beads in a green/white/brown color scheme, all which can be purchased at your local Michael's Arts and Crafts.  We are creating necklaces, and are allowed to add up to two additional bead types and our own clasp of choice.  All of the required beads are on sale this week at Michael's for 2/$8, except the white carved coins which was on sale for $6.  You can use a 40% off coupon for the white chain.
The reveal is set for Sunday October 17th, and she has had a tremendous response.  If you are interested in joining, please follow the link for the rules, and leave a comment to let me know you found out about it here!  I will be doing a follow up post of my favorite submissions, and would love to include yours!