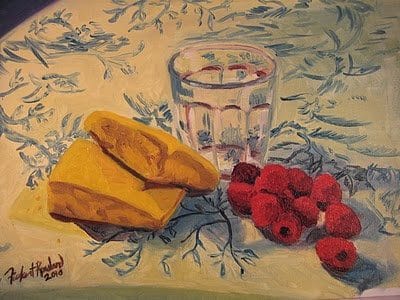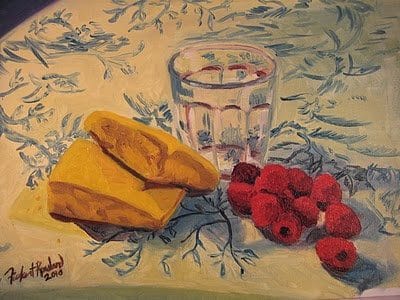 "Breakfast with Raspberries" oil on canvas, mounted on board by Erin Fickert-Rowland

I am starting a new series of fruit and vegetable still lifes, and I love to cook, so I want to share both my painting and a delicious recipe for you to enjoy at home!

Click here for printable recipe

 Berry-Berry Brownie Torte from "Best-Loved Hershey's"

*note:original recipe calls for 3/4 cup raspberries and 3/4 cup blackberries, but I used all raspberries, I also substituted Lite Cool Whip for the heavy whipping cream!

Ingredients:

1/2 cup all-purpose flour

1/4 teaspoon baking soda

1/4 teaspoon salt

1 cup Hershey's Semi-Sweet Chocolate chips

1/2 cup (1 stick) butter or margarine

1 1/4 cups sugar,divided

2 eggs

1 teaspoon vanilla extract

1/3 cup Hershey's Special Dark Cocoa

1/2 cup whipping cream

1 1/2 cup fresh raspberries, rinsed and patted dry
1. Heat oven to 350 F.  Line 9-inch round baking pan with wax paper, then grease.  Stir together flour, baking soda and salt.  Stir in chocolate chips.
2. Melt butter in medium saucepan over low heat.  Remove from heat.  Stir in 1 cup sugar, eggs and vanilla.  Add cocoa, blending well.  Stir in flour mixture.  Spread mixture in prepared pan.
3. Bake 20-25 minutes or until wooden pick inserted in center comes out slightly sticky.  Cool in pan on wire rack 15 minutes.  Invert onto wire rack; remove wax paper.  Turn right side up;cool completely.
4. Beat whipping cream and remaining 1/4 cup sugar until sugar is dissolved and stiff peaks form.  Spread over top of brownie.  Top with berries.  Refrigerate until serving time.
Makes 8-10 servings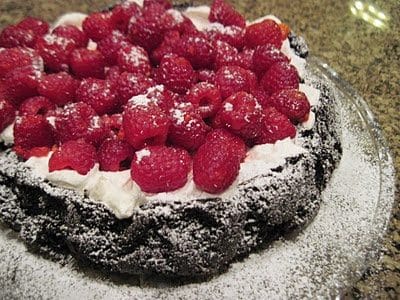 Berry-Berry Brownie Torte