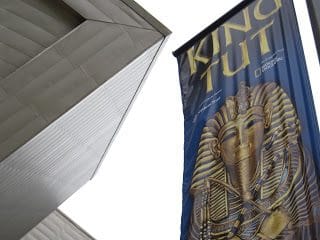 Outside of the Denver Art Museum
Until January 9, 2011, we have "a once-in-a-generation opportunity to see the 100 touring artifacts related to the boy king, who lived 3,300 years ago" says Kyle MacMillan in his Denver Post article, "Cross-Examining King-Tut" . "Objects from King Tut's tomb have not visited the United States since the 1970's, and it's not likely they will again for another decade or two."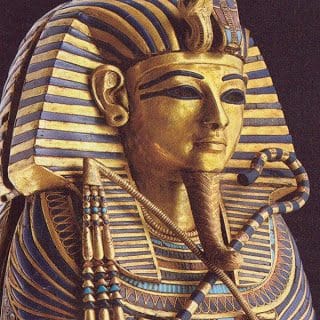 "Coffinette of gold, carnelian and colored glass"
It is remarkable that these artifacts have come to Denver, especially to the DAM.  One would expect an exhibit of such magnitude to be in a major History Museum in New York or Chicago, but now we have an opportunity to view these culturally significant artifacts from an aesthetic viewpoint and in an intimate setting.  Understanding Ancient Egyptian imagery is crucial for anyone interested in Art History.  Before going to the exhibit, it is important to do some research to maximize your experience.  First, understand that there are no mummies in this exhibit!  King Tut's sarcophagus, gold funerary mask and mummy are not part of the collection of artifacts.  "The mummy has never traveled outside of the area where it was found in the Valley of the Kings," MacMillan quotes David Silverman, a noted Egyptologist.  "Tut's sarcophagus and the three coffins that surrounded it have never left Cairo.  The gold mask was part of the famed 1970's Tut show that toured in the United States, but officials have not allowed it to travel since because of fears of potential damage."  The beautiful piece chosen for most of the Tut marketing (above left) is actually a very small gold and inlayed stone that was part of the canopic chest used to hold Tut's mummified organs.
So how do you get the most out of your trip?  First, call and make a reservation!  Prices are discounted for DAM members. Tickets really need to be purchased in advance, and you reserve a 30 min. window for entrance.  For example, our tickets were for 1:00pm, but we had until 1:30 to enter the gallery.  Once inside, you may stay as long as you wish.  NO cameras or cellphones are allowed in the exhibit.  If you try to text or take a call inside the gallery, you will be quickly approached by security.  You are allowed a notebook and pencil if you would like to take notes or sketch.  We took our two boys, age 10 and 6, but I would not recommend taking anyone younger than 5 or 6.  We spent at least a week prior to viewing the exhibit to read books and watch documentaries about King Tut.  This was incredibly beneficial to both children and adults!  It was very exciting to see artifacts in person that we had seen in the videos of the excavation.  It is also helpful to understand the basics of Ancient Egyptian culture and religion: Pharaoh's role, god worship, especially the sun gods Aten and Amun, Tut's lineage, and the Tomb Discovery in 1922 by Howard Carter and Lord Carnarvon.  It sounds like a lot, but see the simple list of recommended resources below which covered these topics.  All were available at our local public library.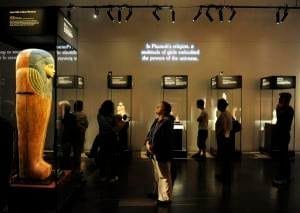 photo by Andy Cross for the Denver Post
Once at the exhibit, be prepared to spend 1 1/2 to 2 hours in the galleries.  Hundreds of people are visiting the exhibit everyday, and it will only get more crowded as the it draws to a close.  You may purchase a self-guided audio tour, for $5 each, and we would highly recommend it!  It really isn't practical to share, especially if you have kids.  Our youngest only listened to about half of the stops, but the rest of us enjoyed the narration by Harrison Ford, and additional insights from Zahi Hawass, a renowned Egyptologist.  After your visit, there are lots of very expensive souvenirs, but we went for several 99 cent scarab and mummy beads (next to the ever-present "bag-o-rocks") and the $15 National Geographic Official Souvenir Guide to the Exhibit.  All of the artifacts in the book were on display in the exhibit, and it's a great resource to remember your trip!  I hope you have the opportunity to see the King Tutankhamun Exhibit, and feel free to comment with any questions!
Recommended Resources:
"Tutankhamun" by Demi -This is a wonderful children's book is filled with information on King Tut's Life and Egyptian culture.  The illustrations and text are enjoyable for adults too!
Finally, you can't think "King Tut" without thinking of Steve Martin's wonderful song from SNL (which the children happily sang all day before, during, and after the exhibit…whatever works, right?!)