Art Tour: Beaver Creek,CO
Categories: Art Tours, Beaver Creek, Colorado, galleries, painting, Rocky Mountains, sculpture, travel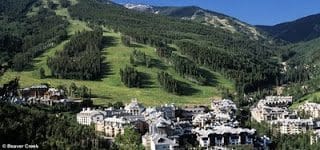 I absolutely adore Colorado for the sole reason that you can visit so many unique towns all nestled in breathtaking scenery. Drive 2 hrs west of Denver along I-70 to Beaver Creek Resort. It's a fabulous ski destination in the winter, but is loaded with summer activities too. For the art connoisseur, there are galleries and the annual Beaver Creek Art Festival. Pass through the entrance gate and drive up the main road that is lined with international flags, and you will see the gorgeous Beaver Creek Golf Course as well as a plethora of multi-million dollar homes. Once at the main village, you feel as if a quaint Bavarian town has been transported to the Rocky Mountains (with a Hyatt and Ritz Carlton of course!)
We played on the bungee-trampoline and a round of mini-golf before having a fabulous lunch at the Golden Eagle Inn on the patio. For those staying into the evening, you can still ice skate in the central village rink starting at 4pm, but we were back at our condo and poolside by then!
Checking out the local art scene, I did find several galleries that had gorgeous work displayed. Walt Horton Fine Art, named after a fabulous bronze sculptor, had wonderful paintings and a friendly staff who chatted with us about the Beaver Creek Arts Festival that happened a few weeks ago.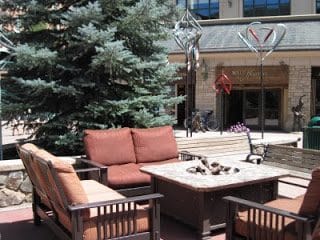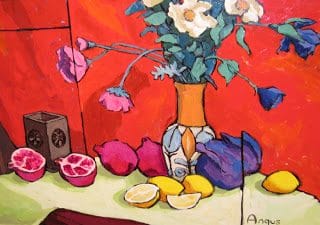 "Poppies and Pomegranate" by Angus Wilson, acrylic on board I love the vibrant colors and black outline, which reminds me of work by Matisse. The artist disrupts the composition with black lines that seem to shift our perspective. It successfully adds energy to a subject matter that is normally still.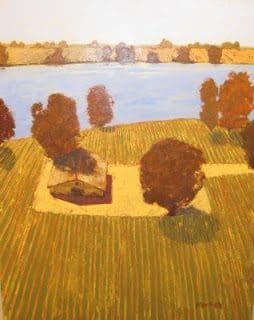 "Ordinary Time" by Tim Mooney, acrylic on canvas I am a sucker for a simple country landscape, and the layers of paint on these pieces completely draw me in. I love figuring out which color came first, and seeing the rich texture that results when paint is both applied and taken away.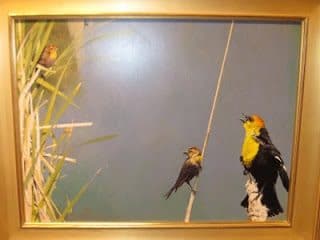 "Yellow Headed Blackbirds" by Mark Eberhard, oil on board I am loving birds right now, and I love the composition of this piece. The colors are beautiful, and the artist has made a realist painting of a traditional subject matter very fresh and relevant.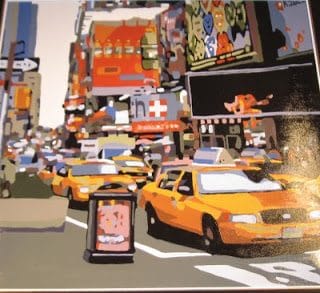 "New York" by Giovanni Manzo, oil on canvas I am fascinated at how the artist has used an architectural subject matter and painted it with such juicy color. There are no lines, just colors playing next to each other that combine to make a shimmering image.
The Vickers Collection Fine Art Gallery is another must see in Beaver Creek. They also have a location in Vail, called "Vail Valley Arts." I chatted with Kate Pardun at both locations and she kindly gave us a tour of the pieces in the galleries as well as additional information about the artists.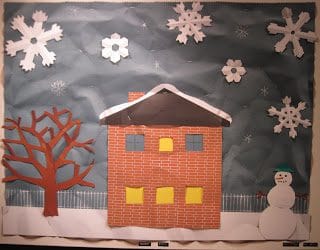 "Snowfall" by Bill Braun, acrylic on canvas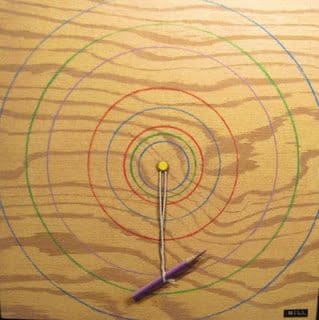 "String Theory #26" by Bill Braun, acrylic on canvas These are paintings! Using a traditional technique, trompe l'oeil, the artist has painted contemporary, whimsical subject matter. The staples and crinkles of the paper, as well as his label-maker signature, are amazing!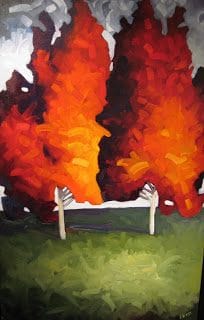 "Twins" by Aaron Fritz, oil on canvas
I love color, brushstrokes, and trees in the fall, so these are perfect! I am amazed at how the artist creates a glow with his color using such bold brushstrokes. The pieces are quite large, too, so you feel like if you are lucky, maybe you could just walk into one and soak up all that color!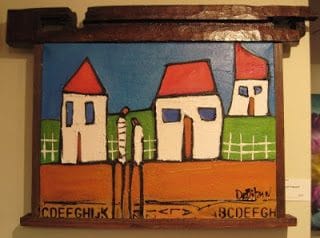 "A Small Fragment" by William De Bilzan
The pieces by this artist are abstract, but we immediately recognize and identify with the imagery. I love their simplicity, yet the layers of paint and visual elements, and the constructed driftwood frames, give them a rich complexity.
As you can tell, we had a fabulous time!! Aspens, art and activities all make Beaver Creek a fabulous destination (and if you can score a visit to one of the many spas it's even better!) I made a beeline to the Allegria Spa at the Hyatt for some of their famous ginger-peach body lotion, only to be completely disappointed because they are sold out! All the more reason to go back soon!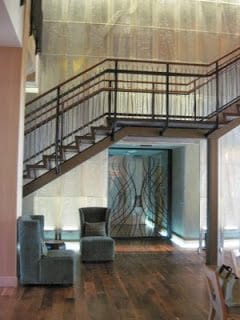 Allegria Spa Park Hyatt Beaver Creek, interior…. stunning!
Tweet
Spread The Love, Share Our Article