Happy 2014!
There are great things in store for Elysian Studios this coming year, but it's not too late to look back at the fun we had in 2013!
These were the 10 most popular blog posts from the Elysian Studios blog last year: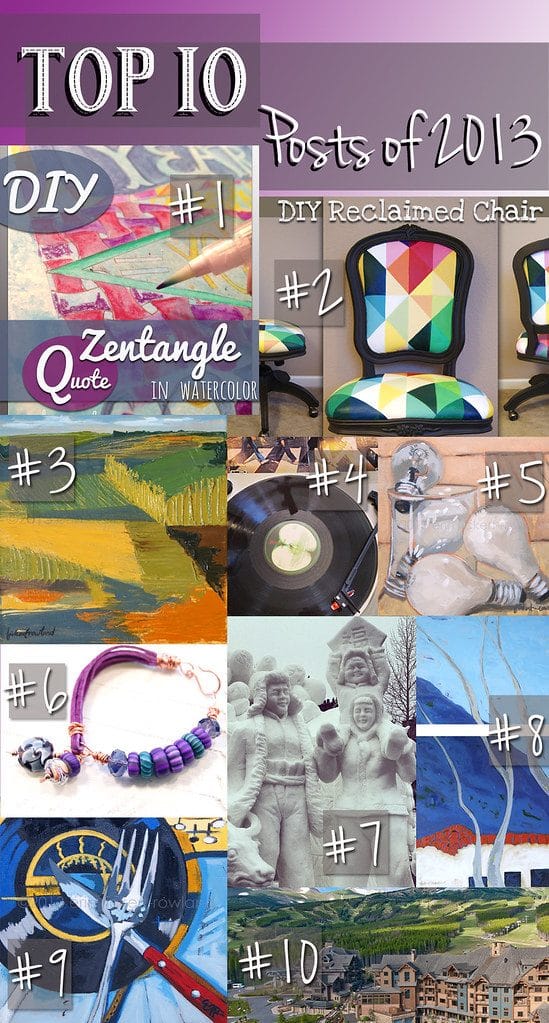 Please click the links to read the full posts:
#1: DIY Zentangle Quote in Watercolor
#2: DIY Reclaimed Chair
#3: Modern Abstract Expressionist Landscape Paintings
#4:Caught on Instagram: A Rekindled Love for Vinyl Records
#5: Playing with Ideas: Three New Modern Still Life Paintings
#6: New Modern Art jewelry in the Elysian Studios Etsy Shop
#7: Caught on Instagram: The Breckenridge International Snow Sculpture Championships
#8: Palm Street Windows: Two Abstract California Landscape Paintings
#9: Spinning Records: Three New Modern Still Life Paintings
#10: Now Showing at Grand Lodge Resort in Breckenridge, CO
2013 was a great year! I had the chance to really grow as an artist, and I look forward to creating more original paintings and handmade jewelry in 2014.  I will also keep snapping photos on Instagram, and will share a tutorial or two to spark your creativity and inspire you to add artful elements into your home.  Thank you so much for all of your continued support and encouragement- I couldn't do this without you!
Want to see more of the best posts from Elysian Studios?
Check out the Top 10 of 2012
 Wishing you all the best in 2014!