Take a look behind the scenes at the painting process for two new landscape paintings that feature the beautiful scenery of the Colorado Rocky Mountains…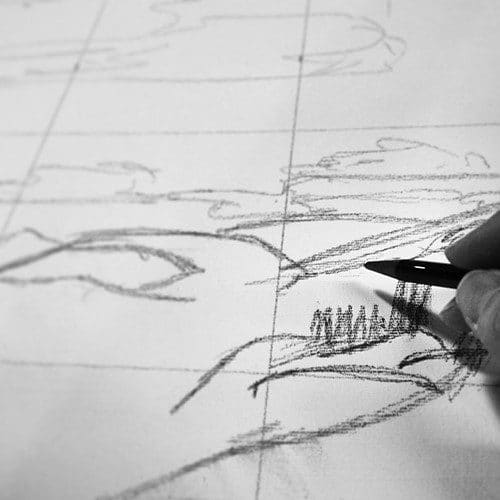 Preliminary graphite sketch for painting
Before paint can be applied, the compositions must be determined and outlined in dark graphite or charcoal on the canvases.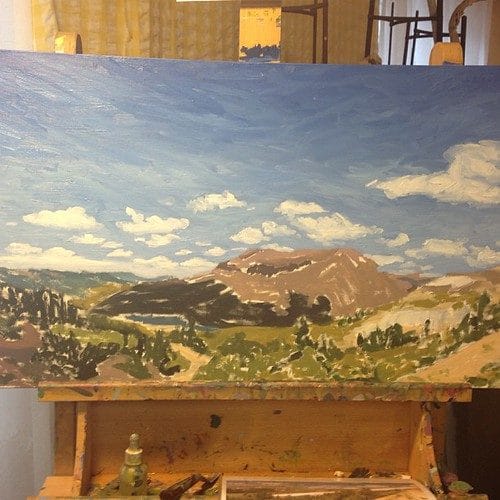 Early loosely brushed layers of "Hoosier Pass, Colorado" on the easel
Broken masses of color are applied to the composition to place the elements of the landscape, and start to establish light, distance and perspective.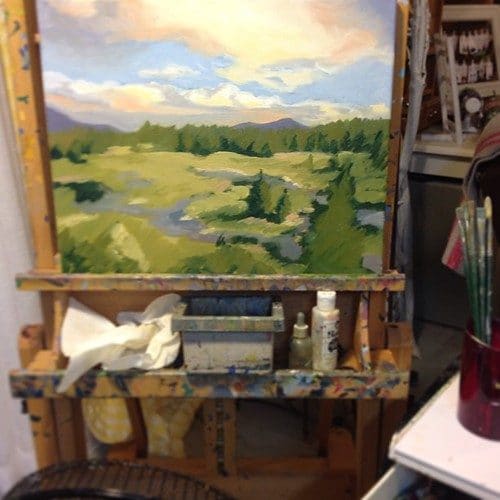 Middle layers of alla prima paint for "Cucumber Gulch" on the easel
 When working with thick, impressionist-style paint of rich color and distinctive brushstrokes, paint is often worked wet-on-wet to allow color and stroke to blend directly on the canvas.
The dramatic Colorado Rocky Mountain landscape has inspired these two new paintings, which both feature mountains on the distant horizon, a big cloud-filled sky, lush summer greenery, and crystal clear mountain waters.
Hoosier Pass, Colorado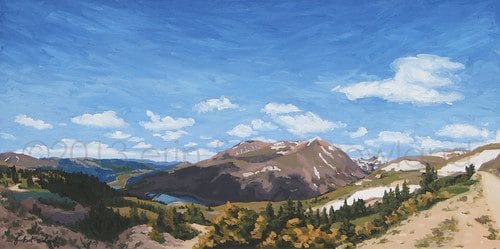 ©2013 Erin Fickert-Rowland, oil on canvas, 36 in x 18 in
This lovely view is of the Continental Divide from the main hiking loop on Hoosier Pass, located between Alma and Breckenridge.  Though this is a summer scene, some snow is still left un-melted on the highly elevated slopes of the pass.  From this location you can  see three of Colorado's Fourteeners: Mt. Cameron, Quandry Peak and Mt. Bross, as well as Montgomery Reservoir in the distance.  My family and I enjoyed hiking this trail on a beautiful summer day this year when big fluffy clouds were plentiful, creating striking moments of warm sun and cool shade across the landscape.
Cucumber Gulch, Breckenridge, Colorado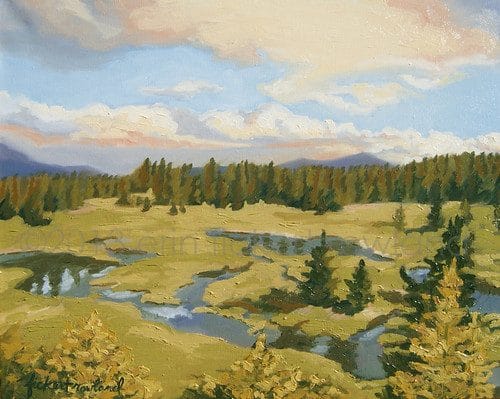 ©2013 Erin Fickert-Rowland, oil on canvas, 20 in x 16 in
The unique wetland landscape of the Cucumber Gulch Wildlife Preserve in Breckenridge, between the town and the base of peak 8, is a special area that provides an important habitat for moose, elk, mountain lions, beaver, and over 47 species of birds.  I had the opportunity to enjoy this landscape on a late afternoon this past June, when the clouds and the wetlands seemed to glow with summer's warmth.
Both paintings are available at www.elysianstudiosart.com. Click on the link to read more about each painting and to see detailed photos.
I hope you enjoyed a peek behind the scenes of the paintings' production!