June flew by!
I can't believe the first month of summer is already behind us!   It was filled with new scenery, experiences, and memories for our family.
Just a few Instagram highlights: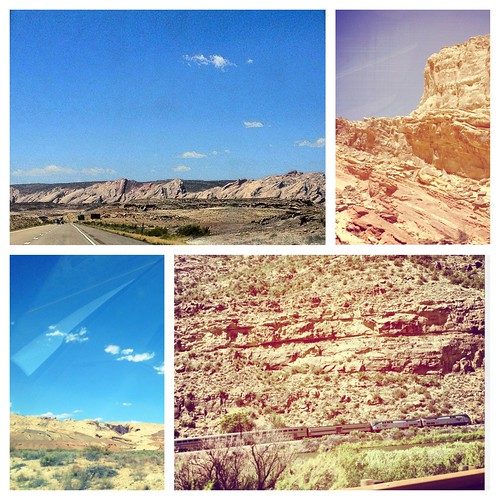 Across Utah: From the Car Window
Watching the landscape change so dramatically from Colorado to Utah.  The sheer power of rocks jutting up from the ground and trains carrying cargo was an engaging sight to behold.  I felt like we were entering "Radiator Springs" and Lighting McQueen and Doc Hudson would come speeding by.  Everyone in the car kept pointing and exclaiming "Look! Those rocks look like …"  It was akin to cloud-watching, only seeing shapes in big, ginormous, immoveable rocks which have been permanently sculpted by nature.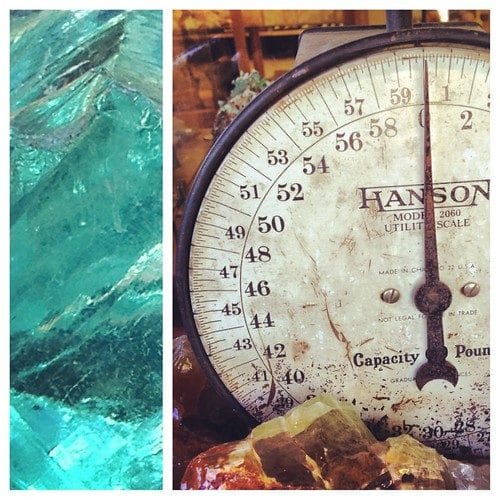 The "Prospector Shop" Next to Our Motel at Zion National Park, UT
My youngest son is a gem and geology hound like me.  We were so excited to see piles of rocks, minerals and big chunks of colored glass at the "Prospector Shop" next to our motel in Utah.  We both scavenged for the best specimens, explored unfamiliar varieties, and had fun measuring their weights on these old rusty scales.  We came home with some beautiful (and heavy) souvenirs!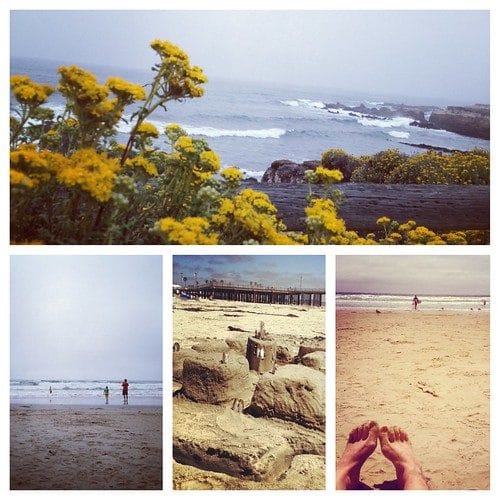 Central Coast California Beach Scenes
Waves were jumped, seashells were scavenged, a very large sand castle was built, and panoramic vistas were soaked in as we ventured to three of our favorite beaches: Morro Bay, Avila Beach and Pismo Beach.  We biked along bluffs overlooking the Pacific at Montana D'Oro State Park and enjoyed the breathtaking waves and wildflowers.  We even spotted several California Condors gently soaring around the shores.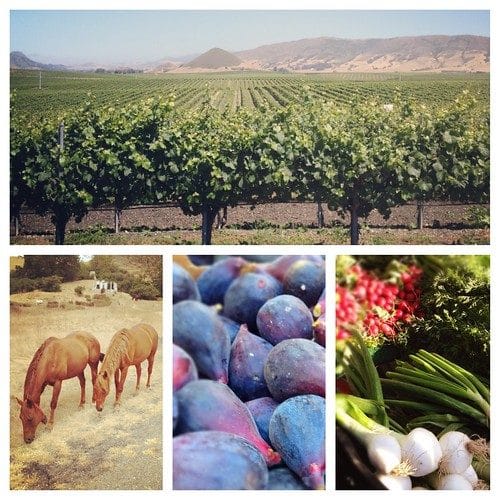 Fresh Air in San Luis Obispo, CA
Returning to simple scenes from an earlier life was so gratifying.  We had forgotten how much we love the San Luis Obispo Wine Trail, and celebrated our 14th Anniversary by stopping at a few of our favorite tasting rooms.   We explored "Poly Canyon" (a gorgeous open space trail behind Cal Poly University) on our bikes with the boys.  They had so much fun seeing these horses up close and investigating the experimental structures built by the Cal Poly Architecture students.  We topped the SLO experience off with a night outside at famous Thursday night Farmer's Market, where the produce is lush with color and the air is filled with the delectable smells of smoked tri-tip….mmmmmm!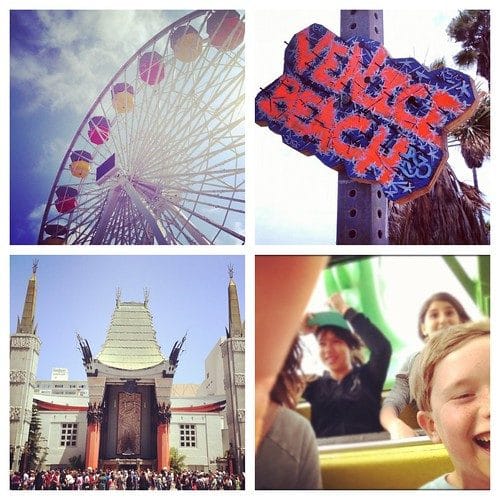 Fun In LA, Santa Monica and Venice Beach, CA
Nothing makes you feel "cooler" than leisurely pedaling on the wide, flat, paved bike paths next to the beach from Santa Monica to Venice Beach.  Taking in the open horizon over the sea, the palm trees bending in the warm breezes, and all of the unique people is absolutely fun!  We finished our day off by riding all of the rides at Pacific Park on the Santa Monica Pier- @PierSantaMonica even retweeted that pic of  us laughing on the giant Sea Dragon ride!  Of course no trip to the LA area is complete without seeing Graumann's Chinese Theater and the Hollywood Walk of Fame.  Our favorite stars on the Walk of Fame? Walt Disney, Steven Spielberg, Bill Cosby, and Jackie Chan!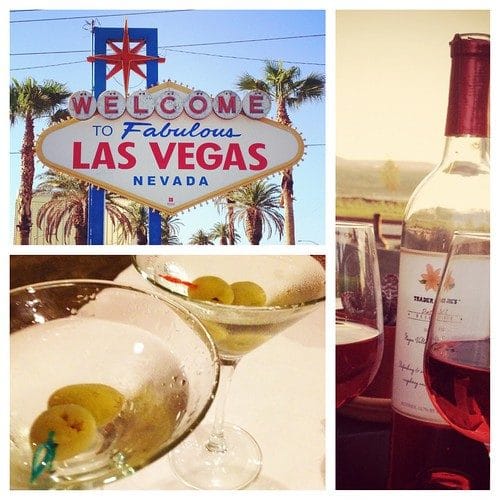 Vegas, and Celebrating a Birthday and Our Return Home
We stopped off for an evening in Vegas to see the lights and spectacle, had a round of "Dirty Martinis" to celebrate my husband's birthday, and enjoyed a bottle of Trader Joe's Dry Rose wine on our back patio to celebrate our return home.  It was a fun trip, that was thoroughly enjoyed and will be remembered by everyone.  
…now back to reality
(which has found us in the middle of an unusual, unending heat wave and disastrous fires here in Colorado!)
I hope you are having a great summer, and staying safe- it seems like quite a bit of the States is enduring severe weather this summer- fires out west and horrible storms out east!