The Artful Life: Making Candy Cane Cookies
Categories: blog hop, Christmas, family, Holidays, recipes, The Artful Life
This is a recipe my mother began making every Christmas for our family when I was very young.  I don't know where it originated, but it has always been a favorite of mine, and now it is requested every year by my children!  I just love the combination of the buttery, almond flavored cookie with the crunch of peppermint candy cane!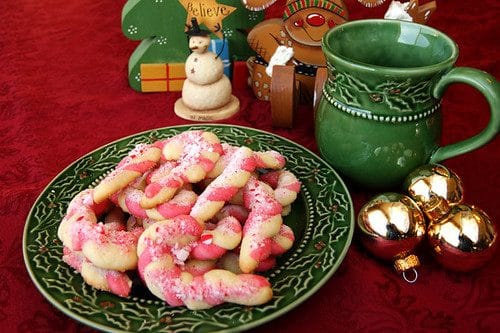 This is a great recipe to make with children. Rolling out portions of red and plain colored dough to twist into candy cane shapes is a wonderful fine-motor skill for kids of all ages.  It is also fun to let children unwrap and smash the candy canes used for the topping.  When I asked my youngest son why this cookie was his favorite, he replied "Because you get to smash candy canes!" 
To make the crushed peppermint candy, I simply buy a whole box of regular, full-sized candy canes and let the boys unwrap them, and put them into gallon Ziploc bags (one per child).  Then I let them each have a small hammer or kitchen mallet (children's plastic tool hammers are the best, but we don't have those around anymore!), and let them go to town pulverizing the candy canes into dust!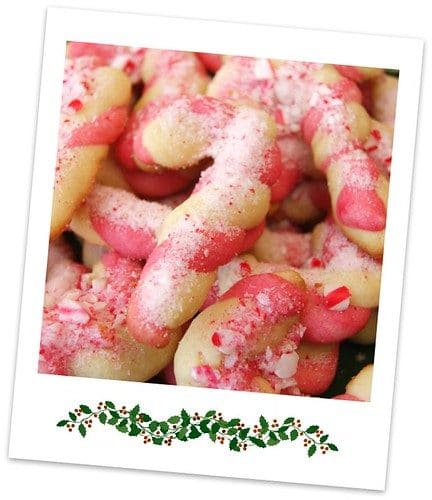 Christmas Candy Cane Cookies


Click Here for Printable Recipe
Ingredients:
1 cup butter
1 cup powdered sugar, sifted
1 egg
1 1/2 teaspoon almond extract
1 teaspoon vanilla
2 1/2 cups flour
1 teaspoon salt
red food coloring (about 1/2 teaspoon)
1/2 cup crushed peppermint candy
1/2 cup granulated sugar
Directions:
Mix the 1/2 cup peppermint candy together with 1/2 cup sugar, set aside.
Preheat oven to 375 degrees Fahrenheit.
Mix butter, sugar, eggs and flavoring in one bowl.  In another bowl, mix flour and salt, and add to butter mixture.  Divide dough in half and color one portion with red food coloring.  Roll a 4 inch snake/log of each color, lay them side by side, twist them together, and bend into a candy cane shape. Lay on cookie sheet, about 2 inches apart.
Bake 9 minutes, or just until edges begin to turn golden brown. Remove from oven and sprinkle with peppermint sugar mixture while still warm. Let cool on cooling racks.
Spread The Love, Share Our Article