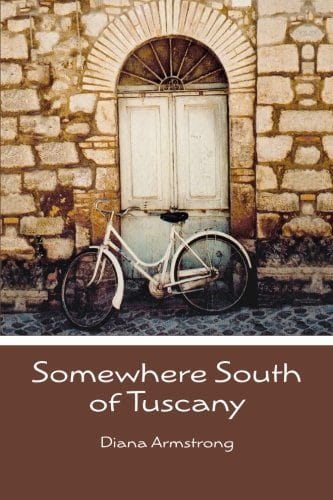 I was immediately drawn to  Somewhere South of Tuscany  when I read that this is a first-hand account of an American woman moving to rural Italy, buying an ancient home to renovate, and immersing herself in the culture and cuisine of Tuscany.  Having met my husband in Rome while studying Art in college, I have a dream of doing this myself!
Coincidentally, Diana Armstrong and her husband were from Denver when they decided to take a leap and relocate to the village of Lubriano.  Her journal-entry style of writing recounts the difficulties of buying land and negotiating contracts in another country, due to language and cultural differences.  She paints vivid pictures of the beautiful landscape, interesting personalities of local people, and sumptuous cuisine to be found in this region of Italy.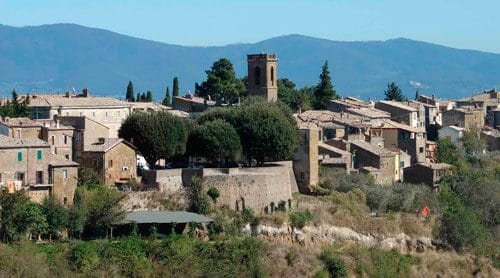 Life hasn't changed all that much in the medieval village of Lubriano. Photo by Diana Armstrong via The Villager

This book is an easy, light-hearted read that is perfect for busy summer days moving from the park to the pool, and the occasional few minutes before retiring for the night.  It can be picked up and put down, and the chapters are usually pretty brief.  If you have an affinity for Italy and, like me, reminisce about travelling there, you will enjoy Diana's stories of life in the Old-World. 
Life proceeds at an entirely different pace in these small villages.  People have long relationships with one another, for better or worse, and events like meals, weddings, baptisms, festivals, and home restoration have an entirely different meaning in the Italian culture than they do in America.
That said, I was disappointed that the stories weren't a bit more riveting.  I wished Diana would have dug a bit deeper into her own feelings and observations during her experience.  Many times I felt the story just dropped off and picked up in an entirely different place.  I felt like I was reading someone's journal, who wasn't all that reliably making entries!
The addition of recipes at the end of the book is a nice feature, and complements the story well.  Diana explains the setting for the meal in colorful detail, and then provides the recipe for the reader to try at home.  There were humorous stories that surrounded many of the meals, so I enjoyed just reading the recipes more in-depth to understand the process of preparing the dishes.
To celebrate the end of our summer here, I chose two of Diana's recipes to make for a nice home-cooked Italian meal before our schedules race into full gear for the fall (and I won't have much time to be gourmet!) 
Pierro's Toasted Polenta with Mushroom, Rosemary, and Sausage Sauce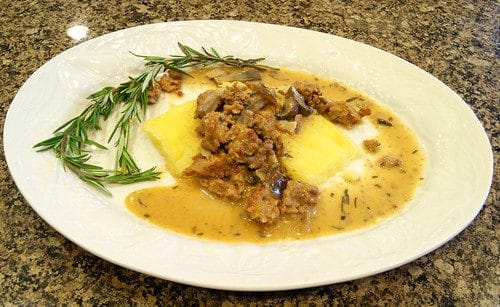 This was a simple meal to prepare!  A sauce of spicy Italian sausage, and an abundant variety of mushrooms, fresh rosemary and cream filled the kitchen with the wonderful aroma of an Italian villa!  The sauce was spooned over polenta that had been thinly spread into a jellyroll pan and then toasted.  Even my children thought this was delicious!
For dessert, I sliced fresh peaches in half, sprinkled them with sugar and placed them under the broiler until they just started to carmelize.  Then we topped them with…
Gelato di Crema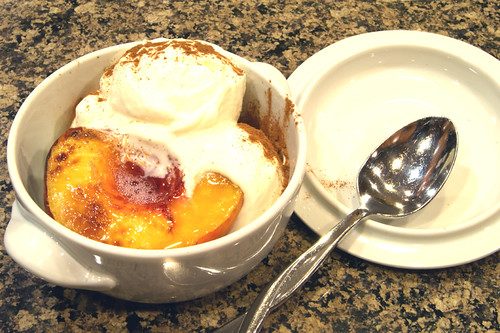 Though nothing quite matches the taste of a scoop from The Gelateria, this came close.  The gelato was made with nothing more than egg yolks, sugar, whole milk, fresh whipped cream and a little lemon zest.  It was divine!
It is amazing how such simple flavors can be the most delicious, and I appreciate that Diana has shared this in her book.  I enjoyed reading about the slow-paced life with interesting people in a very beautiful part of the world, which I hope to return to one day!
Have you read anything amazing this summer? Perhaps summer is too busy a time for you to read.  I find, however, that I allow myself more time to just relax and read while I enjoy the balmy summer breezes outdoors.
Being the book junkie that I am, I already have another read I can't wait to dive into: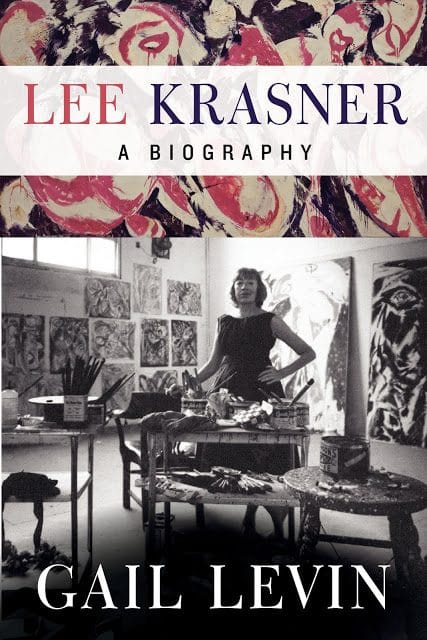 Famous for being the wife of painter Jackson Pollack, Lee Krasner was an immensely talented artist in her own right.  Working in an industry dominated by men at the time, I can't wait to read her story and gain a greater appreciation for the paths she forged for women artists.  It got a great review from my friend, Sondra, over at Contemporary Cloth (have you been there? She has an amazing selection of fabric!)
Happy Reading!
Spread The Love, Share Our Article