Merry Christmas: The Nativity in Art History
Plans and Car Crashes
I keep replaying it in my mind.  I was leaning forward, turned to hesitantly ask my husband if my 6 year old son had brought his Japanese soda bottle with him from the restaurant.  He has a cute little collection, and I didn't want him to get upset (or drive back to the restaurant) when he realized he had left it.  Suddenly, my husband yelled loudly…something like "Oh My God!" or "He's Gonna Hit Us!"…and I heard the deafening crash and felt the terrifying impact.  All I remember was screaming, struggling to turn to make sure my son was ok in the backseat as our car spun out of control through the intersection, and then jolting into a sudden stop.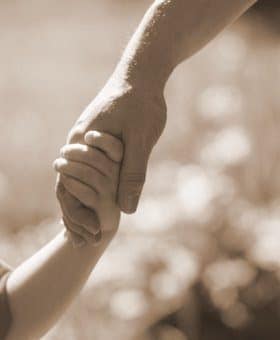 You just sit there for an instant, stunned, wondering what the hell happened.  You realize you are ok, and the adrenaline kicks in as you struggle to evaluate the situation and assess everyone else.  That moment… that moment… it's one of those moments that will haunt you the rest of your life.  You are not in control, and you are helpless to protect those you love most in this world. 
I turned, and realized my son was ok.  My husband quickly exited the car to get him out.  We were fine.  "Thank you, God" was all I could say as we hugged each other on the side of the road, realizing other people had stopped and were getting out of their car to help us.  Our car had been driving through an intersection and was hit at a good speed by a young man trying to turn left from the oncoming direction.   He drove directly into the back of our car as he was turning into the intersection.  He was fine, though he totaled the entire front end of his car.  Our car, had minimal body damage, but all four wheels were almost unidentifiable… the tires completely twisted and melted off their wheels.
Plans…. what was meant to be a simple evening out for a special dinner turned out completely different.  Our car is now in the shop, our bodies are sore, and our spirits are traumatized.  We can't do much about any of this until Monday.  Our weekend was planned with cleaning and Holiday preparations, and next week was planned with a trip to the mountains to snowboard.  I planned on writing a blog post about great gifts from Etsy artists today.  I planned on starting to run again on Monday.  I think the people who stopped to help us last night planned on continuing on their merry ways for the evening.  The young man who hit us probably planned on having fun with the other passengers in his car.  My mom, who came to help, planned on finishing her Christmas shopping.  I had planned to mail those last few Christmas cards that were on the dashboard of the car.  But it didn't work out that way…
We plan, we prepare, we make responsible decisions (and we should or we'd all be a mess!)  But sometimes life happens anyway.  It's humbling.  It's scary.  It's completely unpredictable.
So I am thankful… thankful for my family, and for our health and safety. I am thankful for our friends who care for us.  I am thankful for the kindness and goodness of strangers, who have hearts big enough to stop their own plans to help someone in need.  I am thankful for our country, and the men and women who serve and protect us: police officers,  firefighters,  soldiers.  Mostly, I am thankful for a God who loves us, protects us, and forgives us for all the times we screw up, giving us another chance to get it right. 
Artists at Play: Lorelei's "Stormy" Bead Challenge
Introducing …
"Irreverent Couture" by Elysian Studios
a new line of studio jewelry featuring bold combinations of fiber and beads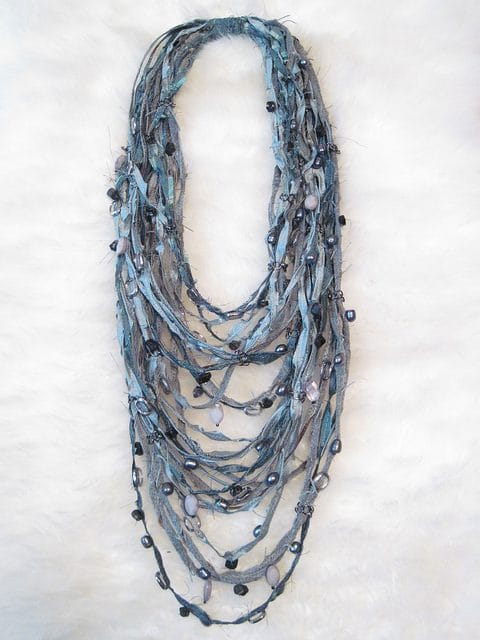 This statement necklace features sewn strands of silk, polyester and cotton fabrics in complementary colorways of slate and teal.  Glass, stone and pearl beads have been artfully arranged and handsewn on the necklace, with some strands cinched by black metal chain.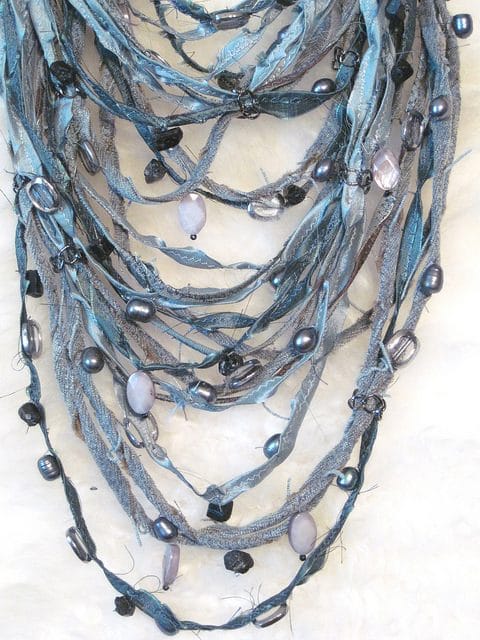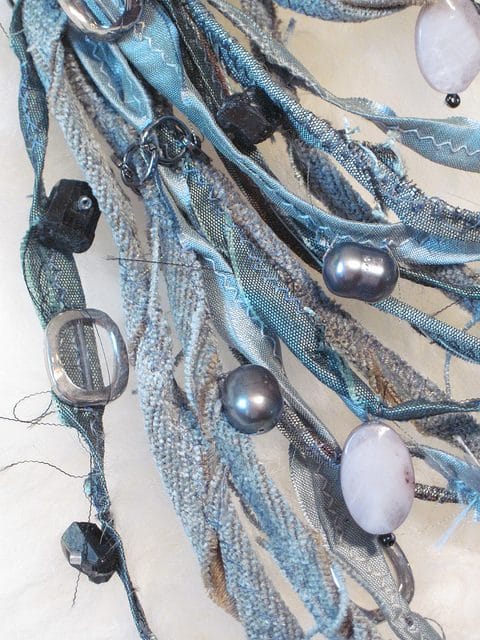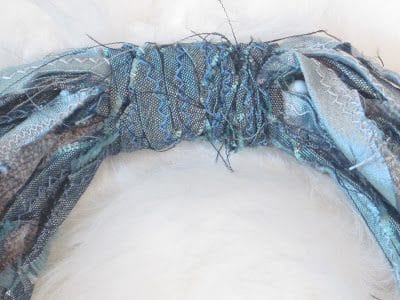 The fibers have been allowed to fray, creating a natural fringe.  In place of a traditional clasp, the necklace has been bound with a silk cord.  This glamorous piece makes a statement with even the simplest of outfits, and can be worn casually or to a more formal event.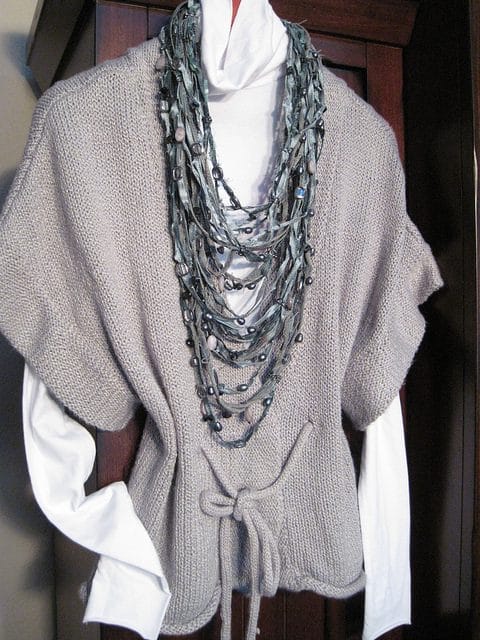 Grey Cardigan by Elle, White Turtleneck by energie, both available at Kohl's
The beads and theme were chosen by Lorelei Eurto and purchased from Michael's Arts and Crafts: Peacock freshwater pearls, gunmetal chain, faceted mother of pearl ovals, chunky black nuggets and some glass that is transparent with silver edges.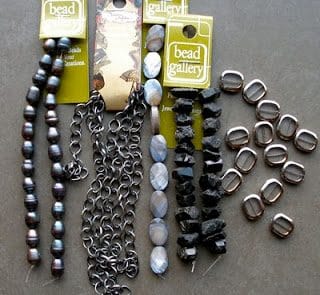 I'd like to thank Lorelei, for organizing this blog hop, and her amazing eye for beads, that have now inspired two necklaces of mine.  I would also like to thank my steadfast model, Darth Vader, who stood for hours without complaint whle I built this necklace!  Maybe he could use the Force to bring me a dressform for my next project!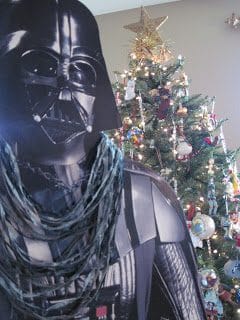 For more inspired pieces, follow the blog hop list below, and have fun!
http://lorelei1141.blogspot.com/ http://threeredbeads.blogspot.com/
http://starcitystory.blogspot.com/ http://erinsiegeljewelry.blogspot.com/ http://www.thistlefarmarts.blogspot.com/ http://therabbitmuse.blogspot.com/ http://lindalandig.wordpress.com/ http://dreamsomedesigns.blogspot.com/ http://rosebud101-fortheloveofbeads.blogspot.com/ http://jenjuddrocks.blogspot.com/ http://formysweetdaughter.blogspot.com/ http://www.mylifeunderthebus.typepad.com/ http://deborahmpurdy.blogspot.com/ http://beadhappytoday.blogspot.com/ http://pinkicejewels.blogspot.com/ http://craftyhope.blogspot.com/ http://gr8findings.wordpress.com/ http://tropicbeads.blogspot.com/ http://melissaruth.com/blog/ http://maryhardingjewelrybeadblog.blogspot.com/ 
http://beautifullybrokenme.blogspot.com/
Holiday Gift Guide: Stocking Stuffers
Artists at Play: Snowboarding
Holiday Gift Guide: For Him: Mountain Luxe
Stylish and rugged, some gifts for him inspired by the Rocky Mountains!
From top left, clockwise:
Aviator Sunglasses by Carrera (Nordstrom):  Around town or on the hill, protect his peepers from the intense reflection off the snow.  A stylish stripe races across the top and down the arms of these shades, with Carrera's signature inset at the bridge.
Small Batch Bourbon (Small Batch): A delicious cocktail after a hard day of playing outside is a wonderful gift, and a small batch bourbon is a complex balance of taste and flavor.  You can find a selection at your local liquor retailer.
Handmade Soap in Mahogany (mosoSOAP): No girly shower gel: An old-fashioned soap for an old-fashioned shower.  Added spices of cardamom, vanilla bourbon and allspice round out the rich woody scent in this handcrafted soap available through Etsy.com.
National Park Graphic Poster (Ranger Doug's): For his office or man-cave, he can dream about the mountains even if he can't be on them.  An entire series of original WPA Designed Posters are available at this website.
Snow Shoes (REI): He'll love being able to trek easily in the fresh mountain air with a pair of snowshoes. Providing excellent value, the Atlas 830 snowshoes are great for beginning and experienced snowshoers alike, offering traction and float on flat terrain and packed trails.
Sorel 1964 Pac Boots (Zappos): A great pair of waterproof boots take him through all kinds of terrain, and these are stylish enough to take him to a casual dinner or drinks with friends. 
Rag Wool and Leather Gloves (Hickoree's Hard Goods): Premium Rag Wool will keep his hands warm, and the leather palms allow him to hold onto his gear in the cold.  Hickoree's Hard Goods is a great site for all kinds of manly goods.
More Gift Guides to come!
Giveaway Announcement: Art Bead Scene Ornament Blog Hop
Holiday Gift Guide: For Her: Mountain Luxe
Can't take her to Telluride? Here are a few gorgeous gifts to bring some Rocky Mountain Luxury to her Christmas!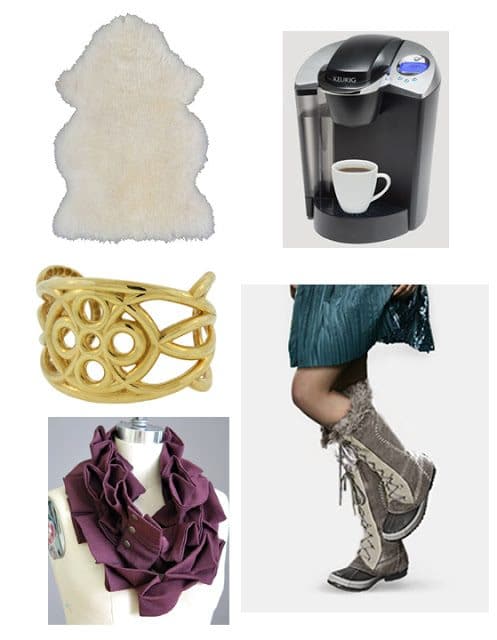 From top left, clockwise:
Sheepskin Rug (Ikea): At the foot of the bed or at the edge of her tub, this is the fluffiest, softest thing her feet will touch all day. They are readily available online, and some discount stores, like Costco carry them.
Keurig Single-Cup Coffee Brewer (Bed Bath & Beyond): For the kitchen (or even more luxurious, the bath) she can have a piping hot cup of her favorite coffee, tea, or hot chocolate.  If you are setting up a coffee bar in the boudoir, be sure to include a tray, coffee cups, non-perishable creamer, and stir sticks. 
Joan of Arctic Boots (Sorel):  These boots are both practical and gorgeous for the city, the slopes, or hot toddies at the lodge.  'nuff said.
KOMO Neck Garland Scarf in Burgundy (PeekoApparel):  She  can snuggle into this scarf and face wind and snow, all while looking completely glamorous.  Available in multiple colors at PeekoApparel's shop at Etsy.com.
XOXO Cuff in Gold (Janet Mazorie): To a formal event, or on any casual day, her arm will glow (and many people will comment) when she wears this statement cuff. This is a handmade piece available only at Etsy.com, learn how to shop here.
Stay tuned for more Holiday gift guides!
Artists at Play: Art Bead Scene Ornament Blog Hop
Art Tour: Shopping in Breckenridge,CO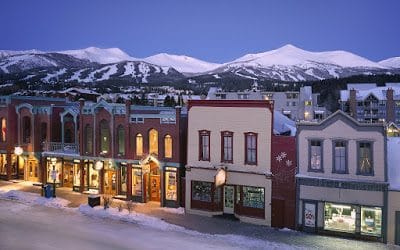 I adore Breckenridge! It is the quintessential Ski Resort Town.  Not flashy, but sophisticated enough to keep you coming back for more!  I never have enough time to just wander, as other members of our group have things they want to do as well (like I said, lots &lots for everyone to do!)  This Black Friday was spent shopping local boutiques, and I want to highlight the fabulous finds we discovered!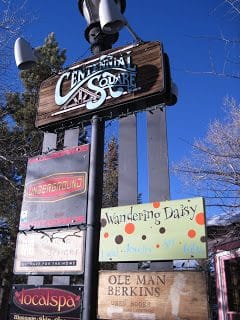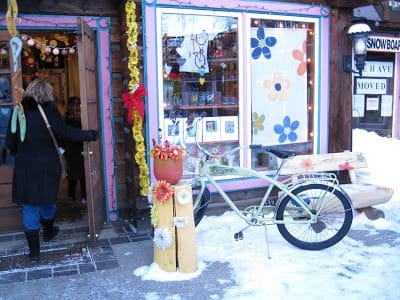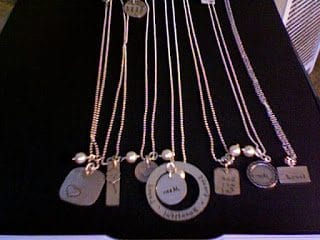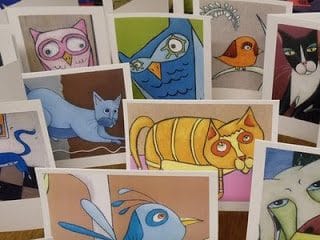 Being in this shop just makes you feel like you are cruising around on their signature bike, happy-as-can-be.  It has adorable handmade goods by a variety of artisans, at very reasonable prices!  I was shopping with my mom, and we both had to stop and decide what we were buying, 'cause there was no way we were leaving without picking up something cute to remember our day!  I bought three prints on cards by Cathy Dailey Designs, that I will be framing together.  Her images of birds and dogs crack me up!  Visit her Etsy shop here for originals (they are so reasonably priced, I would have bought one at the shop if they had any on hand!)
My mom picked up one of these delicate necklaces made by the shop-owner, which she will layer with other silver chains and wear all the time!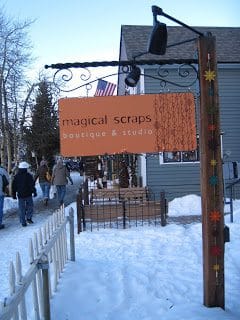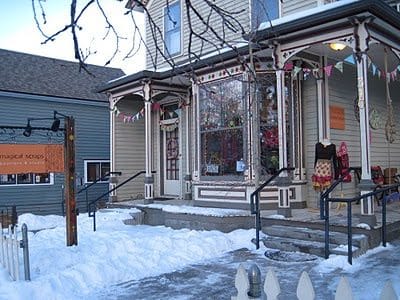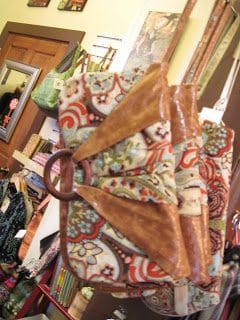 This adorable shop specializes in clothing and accessories for women and children: Handbags, belts, appliqued clothing, jewelry… there's lots to keep you entertained!  I had my eye on this cute clutch- I love the design! Alas, it was just too small for this mom who is always toting everyone else's stuff! Then, because I really wanted the purse, I talked myself out of a pair of earrings that were so dang cute (and well priced), that I think I am going to have to call the shop! Ever do that??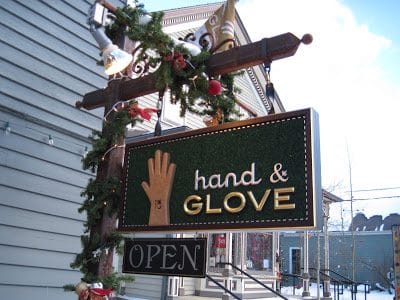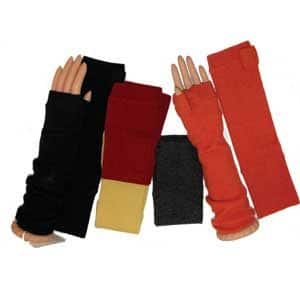 This small shop had wonderful customer service!  We were encouraged to try on, and showed many styles that suited our needs.  Leather, knit, plain colors and patterns, there was a lot to choose from! They had a wide variety of fingerless gloves, including this yummy arm-length style in cashmere! 
"The Bay Street Company"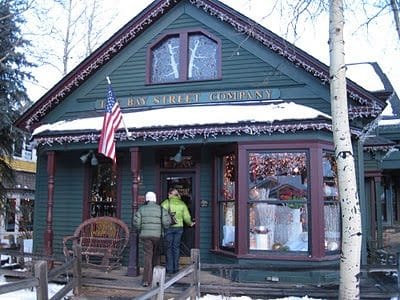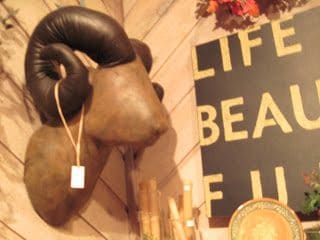 This deceivingly little shop has a ton of merchandise! From books to candles to handmade guinea hen sculptures, you are bound to find something you can't live without!  I had my eye on the fabric ram's head, and these stacked rock sculptures.  Unfortunately, our significant others were calling, as they were reserving a table at our favorite spot for dinner, so we had to hurry on our way!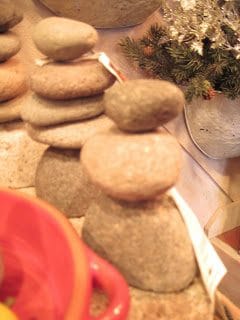 "Breckenridge Bead Gallery"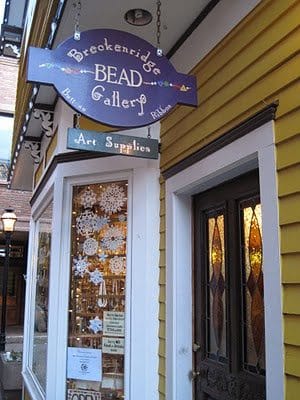 This is an itsy-bitsy shop, off-the-beaten-path, but worth a stop if you're a beader!  Amazingly, it's hard to find a local bead shop in the Denver suburbs, so I enjoyed the change in selection!  I picked up these Chinese lampwork beads to use as focals for three necklaces I have planned.  The shop had lots of different beads to choose from, and some wonderful beaded jewelry to purchase!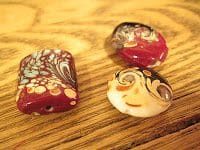 Next visit to Breckenridge will be all about the galleries, and we'll explore what fine art they have available.  But today was fun, lighthearted shopping! Plus, we had hiked it up and down the sledding hill at Carter Park that afternoon, so we were tired…and on our way to Eric's for a beer!