His Valentine's Gift Guide: Intergalactic Badass
Categories: accessories, DenverEtsy, ETSY, February, gifts, Holidays, humor, illustration, jewelry, painting, shopping, Valentines
Out of ideas and tired of standard Valentine's Day fare?  Give him something Out-of-this-World this year!  These gifts are inspired by Steampunk, a style trend based on the idea that the technology upon which society will eventually come to depend is driven largely by steam power or clockwork.  Give him the accessories he needs to battle against time, cold, grime, idea storage and poor style.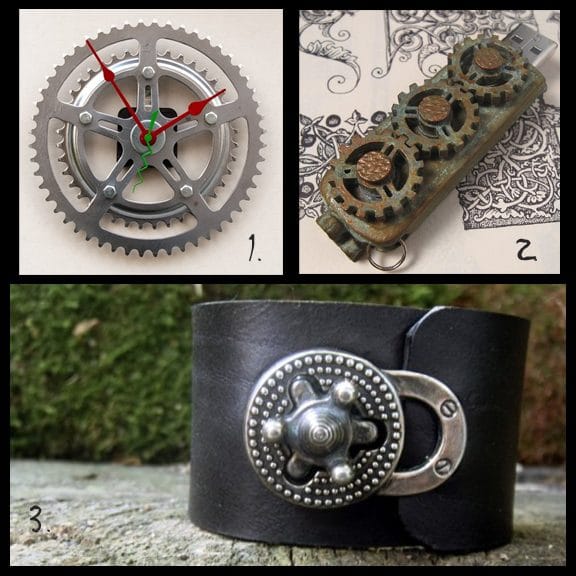 1.Recycled Bike Crank Clock by pixelthis  2. 4GB Copper and Patina Steampunk USB drive by cerriousdesign  3. Black Leather Cuff with Gunmetal Turn Lock by CJohannesen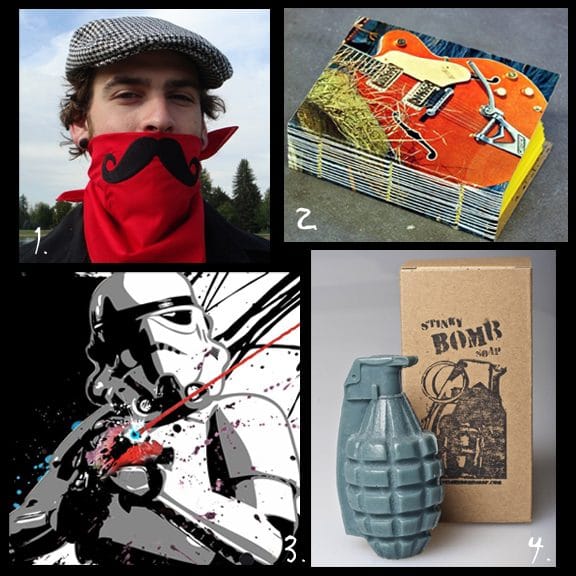 1. Handlebar Mustache Embroidered Bandana by CyanideStitches  2. Chet Atkins HandStitched Rock Block Journal by iamthemandy  3. StormTrooper Pop Art Style Fan Illustration by mediagraffitistudio  4. Army Green hand Grenade Soap by Stinkybomb
These gifts would work for boys of all ages!  Have fun shopping!
New to Etsy? Here's a helpful article on how to shop.
Spread The Love, Share Our Article