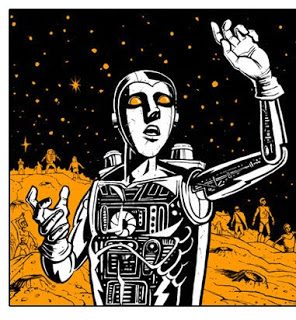 "Sci-Fi Theologica" by Tim Baron

Tim Baron is an extraordinarily talented artist and illustrator whose work I have admired for years.  He has an entertaining variety of subject matter to which he delivers a unique style!  Tim consistently produces subject matter that has a passionate heart, whether it is about the Gospel, children's books, the current dangers facing teens, or a painting of a monster statue his daughter gave him!  He is a  a self-described, comic-book and action figure addict (to which I can totally relate), graphic designer-by-day, and family man. 
One of my favorite works by Tim is this beautiful drawing of Jesus saying "Let the Children Come to Me".  Tim has an amazing ability to put a lot of emotion into simple gestures, which makes his characters graphically stunning. (I also secretly admire his ability to turn sounds into cool words like "KZAAK!" "BOFF!" and "MUAHAHAHA!")  I recently caught up with Tim to gain more insight into his process, and find out about his newest projects.

"Jesus said 'Let the children come to Me' " by Tim Baron

Elysian:  "When did you make your first comic book and what was it?"
Baron:  "Hmmmmmm….I believe I made my first comic in early grade school.  My best friend Curt and I were obsessed with Transformers.  We made up these Transformers stories that we would write and draw comics for.  Each of us would work on it for a while and then trade off.  I still have some of them. 
 As far as comics go, I've been obsessed with them since before I can remember.  I was first introduced to super-heroes on shows like "The Electric Company" and "The Bozo Show." I do have a very early memory of going to the grocery store with my Mom and buying what I believe was my first comic book.  It was an issue of Green Lantern where he fights Star Sapphire.  I would always stand and look at the comic rack when I went to the grocery store with my mom.  I loved pouring over those books, and a lot of those same covers still stick in my mind."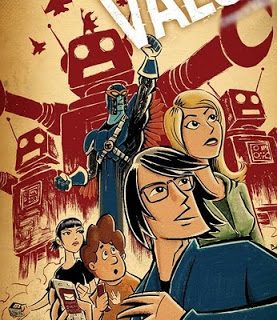 "Charlie Valor: Rise of the RumorBots"
  Elysian:  "What inspires you to make art?"
Baron: "Pretty much everything that inspired me to make art as a kid…comic books, movies, retro Saturday morning cartoons, super heroes , monsters, giant robots, childhood innocence, childhood memories, dreams, other artists, action figures…especially action figures! 
Tennapel is incredible…actually the best example I've seen of a Christian working in Hollywood and in comics, not compromising, but also putting out insanely awesome work that is not confined to Christian bookstore kitsch.  I'd have to say he has influenced me more artistically in the past five years that any other artist.  If you look at my comic work, you will see me borrowing techniques from him quite often.
I'm also inspired a lot by authors like CS Lewis, Edgar Allen Poe, and GK Chesterton.  Lewis's essay "The Weight of Glory" has been instrumental in my understanding of inspiration, and Francis Schaeffer's book "Art and the Bible" has really helped me see the importance of art vocation from a Biblical perspective.  The first person mentioned in Scripture to be "filled with the Holy Spirit" was an artist."
Elysian: "Charlie Valor" is one of Tim's newest projects for Brotherhood Mutual Insurance Company , which is a wonderful short comic book about the danger of texting that is facing our nation's youth right now. Read "Rise of the RumorBots" to find out how Charlie and his superhero friend, Talon, take down Greymatter and put an end to his texting treachery.  Enjoy the promo video and see the list of safe-texting guidelines, at the end of the online issue, to discuss with your child.
"Sola Christus" by Tim Baron
Elysian: "What projects are you working on right now and what do you have coming up in the future?"
Baron: "I'll likely be doing more Charlie Valor comics, but I also have a big honking graphic novel of which the art is complete, but I am working with Ben Avery, an amazing writer, to finish the words and narration.  I'm hoping to have it printed and in hand by late 2010/early 2011.  I have a short Mad Hatter four page story appearing in an issue of "The Oz/Wonderland Chronicles:Jack and Cat Tales" in November.  I worked with Ben Avery on that and am really pleased with how it turned out.  It is a charming little tale.  I also did a book cover and interior illustrations for a forthcoming book on the 12 Apostles."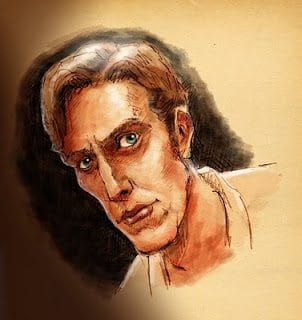 "Self-Portrait" by Tim Baron
Tim has published his own collection of drawings and comics called "The Great and Terrible Dream": "an eclectic art book filled with 112 pages of wonder, doom, hope, sound, fury, Faustian nightmares, damnation, and salvation."  It's a wonderful book full of heroes and villains!  You can discover Tim's work on his website at http://www.timbaron.com/, and follow his inspiring creative process on his blog, http://timbaron.blogspot.com/.  I can't wait to see what Tim creates next!  I am amazed at how much work he produces, and there's always an exciting new twist to his creations, whether it's a new medium like digital painting, or a new subject matter, like his current work on "The Tortoise and the Hare!"
Spread The Love, Share Our Article