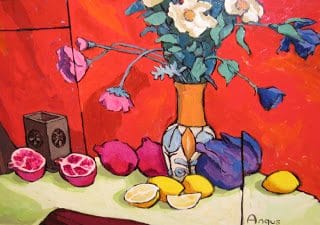 "Poppies and Pomegranate" acrylic on board by Angus Wilson
I first encountered the vibrant paintings of Angus Wilson during my Gallery Tour of Beaver Creek , where he is represented by Walt Horton Fine Art.  I was immediately struck by their stunning colors and energetic compositions.  Angus' imagery successfully walks the fine line between abstraction and realism.  The viewer immediately knows what they are looking at, but is compelled to linger and explore the familiar subject presented with a fresh approach.  His work evokes a joyous calm, and I am continually amazed at the variety of his portfolio.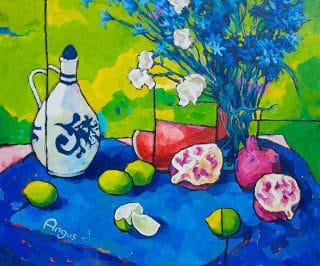 "Pottery with Jug and Fruit" acrylic on board by Angus Wilson
To better understand his unique process, follow his creative pursuits on his blog and Facebook page.  What you will find so interesting about Angus is his honesty regarding his work.  He very openly invites his audience into his studio, creative process, and busy schedule, allowing us to view the life of a Fine Art Painter.  Whether it is a gallery demonstration, a day celebrating paintings back from framing, or simply an afternoon contemplating in his favorite chair, Angus is genuine about his experiences. I've had the opportunity to correspond with Angus, and I would like to share some of his insights. Elysian:"What artists are the biggest influences on your work?"
Angus: "Many compare my work to Matisse or even VanGogh; it's nice company to be in, but in truth I'm not aware of my work having sprung directly from any single artist or style.  Producing a unique and singular voice within my work has always been important to me and developing a style that speaks too closely to another artist's work has no appeal to me.  Perhaps I would say I'm an artist of the modern age- My art has been born from a 'Google'-like approach, where a variety of artists, paintings and media got chewed up in my garbled head and out came the work I produce now.  So, when asked who I feel has influenced my work?  I invariably begin to list past painters and works I have loved and admired: the Glasgow boys, especially the colorful still lifes of  Samuel Peploe , Mark Rothko , sculptures of Henry Moore, and Joan Eardley, particularly her early paintings of Scottish children."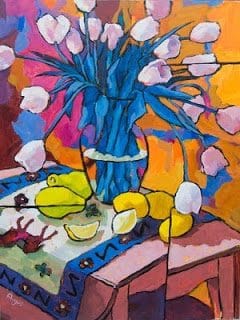 "Tulips with Color" by Angus Wilson
Elysian: "On average, how many hours a week to you spend in your studio painting?" Angus: "I spend every morning and the first part of the afternoon in my studio (Monday-Friday).  Work tends to stop around 2 since I pick up my kids from school at 3.  I then return to my studio for an hour or two most evenings.  I produce about one and a half paintings a week, but this is very variable, dependent on size and complexity." Elysian: "What inspires you and keeps your imagery fresh?" Angus: "Despite focusing so intently on still life paintings, I rarely get listless about the subject matter.  I'm always looking for a new color scheme or perhaps a new plate or item of pottery that excites me and is crying out to be painted.  From time to time I notice my work tailing off, and at that point I always produce a new photo shoot of still life subjects.  This process always energizes and revitalizes my creative juices for the next painting."
Elysian: "You have an impressive dossier of gallery representation, including Paul Scott Gallery in Arizona, New Masters Gallery and Gallery i Fine Art in California, Warm Springs Gallery and Chasen Galleries in Virginia, as well as Walt Horton Fine Art in Colorado, but when did you sell your very first painting?"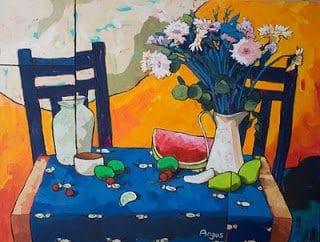 "Fruit and Flowers on Bird Cloth" by Angus Wilson
Angus: "I sold my first paintings to my brother when I was a student.  He fortunately was blessed with deep pockets, a kindly heart and a tolerance for some of my early mediocre paintings!" Elysian: "What music are you listening to in the studio right now?"
Angus: "The curse of an ipod is you can have so much music at your finger tips.  I listen to a wide and varied selection of music, from classical and jazz all the way through to some pretty trite pop.  I also listen to NPR and some BBC radio comedy shows.  These days I find I listen to a lot of folk or acoustic music with strong vocalists, but perhaps my most favored artist through most of my years has been Tom Waits, especially his mid-career stuff."
I look forward to following the progression of Angus' work and hope to catch up with him again in the future!  If you would like to see more, please view his website at http://www.anguspaintings.com/ , follow him on his blog at http://anguswilsonstudio.blogspot.com/ and on Facebook at Angus Wilson Studio.