Plein Air Painting: Day 2- Painting
Categories: drawing, Elysian Studios, En Plein Air, landscape, painting, supplies, tutorial, youtube
The first thing I learned about Plein Air painting is that preparation is key! I didn't venture beyond my front porch, as just moving all of my materials from my studio was quite the effort!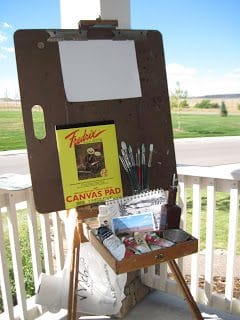 Here are the essential supplies you need to get outdoors and paint:
a portable easel (mine is a Julian French Box Easel)
a jar with a tight lid for your turpentine
an empty can to hold turpentine while you paint
a bottle with pour spout for linseed oil mix
paints,brushes, and palette
canvas or painting surface (I used Fredrix canvas paper)
roll of paper towels and plastic grocery bag for trash and cleanup
SUN PROTECTION!! sunscreen, hat, umbrella…
something to carry wet paintings (see Artmate Wet Canvas Carrier)
In this video, I will briefly outline the process of making three paintings from three different outdoor views. Because light changes so quickly outdoors, the paintings are very loose. The focus of this is to look at color and landscape elements as the exist in nature, and to begin to learn how to convey them in paint color and brushwork.
Tweet
Spread The Love, Share Our Article